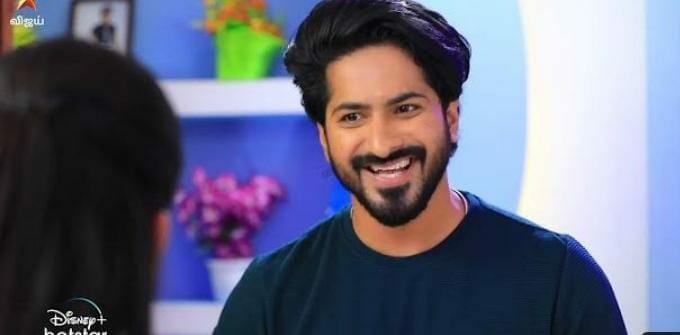 Mouna Raagam 2 Upcoming Story, Spoilers, Latest Gossip, Future Story, Latest News and Upcoming Twist, on TellyExpress.com
Vijay tv popular show "Mouna Raagam season2" starts after a break with lots of twist and turns. Now serial focuses on Karthick to insult Kadhambari
In the previous episode we saw: Sakthi advised Shalini to don't insult Sruthi in front of everyone. Shalini apologized to her for being careless. Sruthi accused Sakthi for plotting against her. She complained that Sakthi intentionally bring Shalini to separate her from Tharun.
Sakthi scolded her and left. Later, Karthick appreciated Mallika's cooking. Kadhambari demanded Karthick to eat her cooking but he give a fitting reply to her.
Later, Varun and Sakthi spent a quality time with each other. Sruthi tried to impress Tharun. Tharun cleared with her that he was thankful for brought his mom back. But he didn't forget her past deeds. Sruthi was shocked to hear it.
In the upcoming episode viewers will see; Varun will be surprised to see Manohar and Kasthuri's outfit. Manohar will inform him that he want to take Kasthuri out for morning walk. Varun will appreciate them.
Varun will take Sakthi out for morning walk. Sruthi will ask Tharun to take her out for morning walk seeing them. Tharun will refuses to take her out. Sruthi will ask Kathick to take Kadhambari out for morning walk. Karthick will insult Kadhambari and take Mallika out.
Later, Shalini will notice Sakthi and Varun romance and close her eyes. She will grow suspicious seeing Tharun and Sruthi's relationship
What will happen next? Will Shruthi get caught? Will Sakthi take revenge on Sruthi?
Upcoming episode will answer to our all questions stay tune with our space for more updates