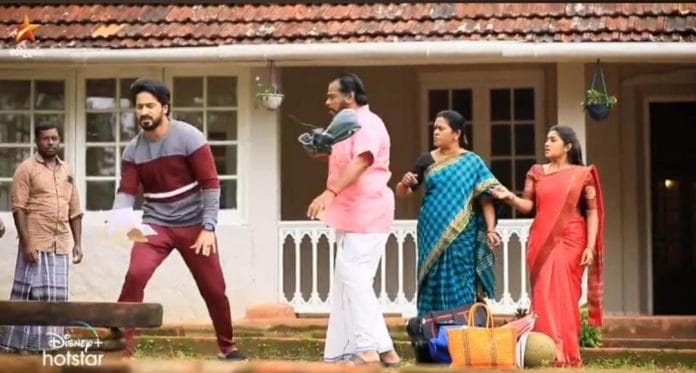 Mouna Raagam 2 Upcoming Story, Spoilers, Latest Gossip, Future Story, Latest News and Upcoming Twist, on TellyExpress.com
Vijay tv popular show "Mouna Raagam season2" starts after a break with lots of twist and turns. Now serial focusing on Palani to meet Mallika
In the previous episode we saw; Mallika and Sukumar were discussing about Karthick's announcement. Mallika scared Kadhambari will do something against them. Karthick came there and informed to them he won't leave them. They received divorce paper from court. Mallika got angry seeing it. Sakthi felt helpless thinking about it. Later Karthick revealed to them he was the one sent notice to them that's why they sent return letter to them.
Mallika lashed out at him for troubling them a lot. Mallika demanded him to leave from there. Karthick left from there. Later Manohar faced many questions from his friends he called to Varun if he learn about it all? But he lied to him as nothing.
In the upcoming episode viewers will see; Varun will take Palani near Mallika and Sakthi. He will get happy to unite with them. Palani will inform to Mallika that Varun took him here. Mallika will introduce him as Sakthi's husband and blame him kicked her out of the house and sent divorce notice to her. Palani will push him down in angry. Varun will stare Sakthi helplessly.
What will happen next? Will Sakthi understand Varun? When will Varun stand for Sakthi?
Upcoming episode will answer to our all questions stay tune with our space for more updates..