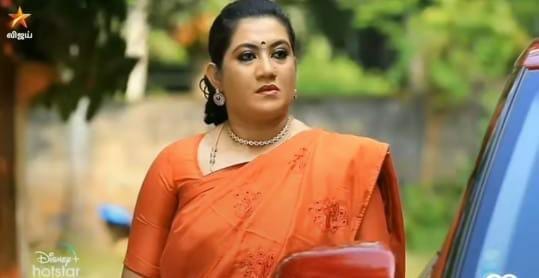 Mouna Raagam 2 Upcoming Story, Spoilers, Latest Gossip, Future Story, Latest News and Upcoming Twist, on TellyExpress.com
Vijay tv popular show "Mouna Raagam season2" starts after a break with lots of twist and turns. Now serial focuses on Sheela hiding a truth from Manohar family
In the previous episode we saw: Sakthi shared to Varun that Karthick fans wanted to see Mallika attending orchestra with Kartick. Varun appreciated that idea and assured her to arrange for it again. Later, Manohar shared to them that Kasthuri's death anniversary is tomorrow.
Varun and Tharun got emotional thinking about their mom. Sruthi planned to use his weakness to convince him. Sruthi tried to convince Tharun but he lashed out at her. Later, Sakthi demanded Sornam to don't reveal the truth to anyone.
In the upcoming episode viewers will see; Manohar will do the death anniversary rituals for Kasthuri. Varun and Tharun will share their grief to Sakthi. Meanwhile, Kadhambari will share to Rukmani that she want to find out how did Mallika escaped from them? Sheela will excuses them and leave.
Later, Sheela will disclose the truth that she kept Kasthuri in her custody these many years. Later, Varun will plan a trip with Sakthi. Tharun to prank Varun
What will happen next? Will Shruthi get caught? Will Sakthi take revenge on Sruthi?
Upcoming episode will answer to our all questions stay tune with our space for more updates