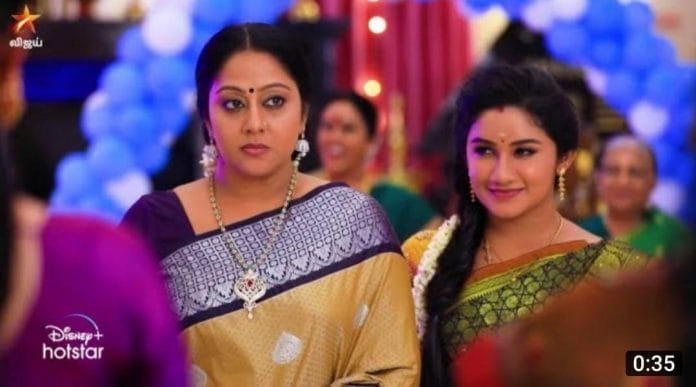 Mouna Raagam Upcoming Story, Spoilers, Latest Gossip, Future Story, Latest News and Upcoming Twist, on TellyExpress.com
Vijay tv popular show "Mouna Raagam season2" starts after a break with lots of twist and turns. Now serial focuses on Karthick on cloud nine
In the previous episode we saw: Kadhambari grew suspicious hearing Viswanathan meeting Sornam often . Later, Sruthi asked Sakthi to choose which dress she should wear on her father birthday party. Sakthi chose one for him and challenged her to perform the orchestra on his birthday without fail. Sruthi smirked at her and left from there.
Sornam alerted Sakthi and Varun about her deal with Sheela. Sakthi and Varun waited for Sheela and followed her behind. Sheela take Sornam near the warehouse. Sornam asked Sakthi and Varun to follow them behind.
Later, Sakthi saved Mallika and bring her back to home. Karthick decide to send the culprit to jail but Mallika denied it.
In the upcoming episode viewers will see; Sakthi will request Sornam to invite Viswanathan to attend the birthday party. Sornam will assures her. Sornam will threaten Viswanathan to bring his family members to Karthick's house. Viswanathan will agree to her without option.
Sruthi will return to home and gets surprised to see the birthday arrangements. Viswanathan will learn that Mallika got escaped from his custody.
What will happen next? Will Shruthi get caught?
Will Sakthi take revenge on Sruthi?
Upcoming episode will answer to our all questions stay tune with our space for more updates