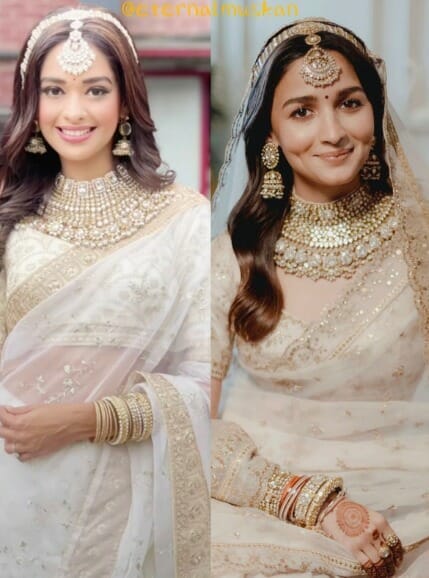 Mugdha Chapekar is compared to Ali Bhatt:
Actress Mugdha Chaphekar new reel impressed her fans. Famously known for playing the character Prachi in Kumkum Bhagya, Mugdha leave fans awestruck with her beauty and acting. Prachi's styling in the show never disappoints too.
Mugdha recently shared the upcoming look of Prachi in the show. Actress left fans enchanted with her gorgeous appearance in ivory saree. She has dolled up in kundan accessories. Prachi's upcoming look is being compared to Bollywood diva Alia Bhatt's wedding look. The hair accessory used was the exact copy of Bollywood diva. You just can't take your eyes off from our desi Alia aka Prachi aka Mugdha
Do you find any difference!? Well, I am not!! Muggie looks sooooo kuchh prettyyy and gorgeous!! #kumkumbhagya #prachikohli #mugdhachaphekar #Aliabhatt
Aliya Bhatt of Television #mugdhachaphekar #AliyaBhatt #pranbir #kumkumbhagya
Same Same Different Different .. #MugdhaChaphekar #KumkumBhagya #AliaBhatt
My girl Heavenly gorgeous #mugdhachaphekar #kumkumbhagya #prachi
Mugdha is really looking charming. One can't resist from falling for her beauty. As Prachi Mugdha's styling is awesome. Be it saree, anarkali, modern or indo-western; all types of attire is well carried by the actress.
In the recent past, Mugdha was captured by celebrity photographer Neha Advik Mahajan. She slayed the bridal attire. Mugdha left fans amazed in red lehenga and typical bridal make up.
https://www.instagram.com/p/ChjpCwTK78b/
Prachi aka Mugdha has also done spring photoshoot. The floral accessories and get up captured audience heart. "Prettiest" , "Gorgeous", "So Adorable" are the top comment under Chapekar's post.
https://www.instagram.com/p/ChetOLJP_Lt/
Mugdha made her TV debut with 2001 show Junior G. Since then actor has flaunted her acting skills in shows that includes "Satrangi Saural", "Sajan Re Jhoot Mat Bolo", "Savitri Devi College and Hospital".
Character Prachi earned her popularity. She is paired opposite to Krishna Kaul (Ranbir) in the show. The Jodi of Ranbir and Prachi is celebrated separately.
Talking more about Kumkum Bhagya – show is always high on drama with Rhea and Aliya plotting against Prachi and Ranbir. In the upcoming episode, Prachi will agree to get engaged to sid to prove her love for Ranbir. Will Aliya and Rhea's mission accomplished? Well, wait for more twist in the tale.
Share with us if you liked the upcoming look of Mugdha aka Prachi.
Follow us for TV serial news and updates