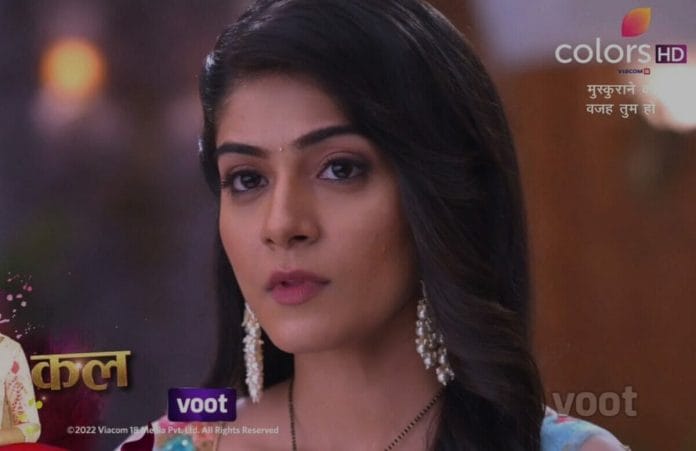 Muskuraane Ki Vajah Tum Ho Spoilers, Upcoming Story, Latest Gossip , Future Story, Latest News and Upcoming Twist on tellyexpress.com
Colors Tv new show Muskuraane Ki Vajah Tum ho is attracting viewers with an interesting storyline.
As reported earlier, Kabir is devastated by Katha's revelations. He locks himself in a room. Katha requests him to open the door but he doesn't.
Katha comes to the hall. She tells Savitri that Kabir locked himself in the room and she asks Savitri to make him come out. Madhu says we are there for Kabir so leave the house packing your luggage. Uma says enough and asks Katha to come with them. Katha says I can't leave Kabir in this situation.
Savitri asks her to leave their house. Katha says I'm the wife of Kabir and daughter-in-law of this house so I won't leave without talking to Kabir. Madhu insults Katha. Police come to Shekhawat's house. The inspector shows the complaint and tells them they came to arrest Yuvraj as they received a complaint from Kabir Shekhawat.
Everyone gets shocked. Yuvraj goes to Kabir's room and knocks on the door and he asks him to trust him not Katha. Kabir shouts in pain and loses consciousness.
Family members try to stop Police from arresting Yuvraj but Inspector doesn't listen to them and arrests Yuvraj and takes him with them.
Katha feels worried for Kabir's safety. She knocks on the door and requests him to open the door. Kishore comes there and notices from the door hole that Kabir falls unconscious. They break the door and rush him to the hospital. At the hospital, Doctor informs family members that Kabir slips into a coma because of shock.
In the upcoming episode, viewers going to witness Yuvraj will say he knows that Kabir will release him. Inspector will inform him that Katha withdraws the complaint. Maddy will blame Katha for lying about Yuvraj.
Yuvraj will say in front of the family that Katha has no proof and so she took the complaint back. Katha will say to everyone she has proof and shows a video to them which shocks everyone.
Will Katha be able to expose Yuvraj? Will family members support Katha?
All these questions will be answered in the upcoming episodes.
Stay tuned to this space for more updates about Muskuraane Ki Vajah Tum ho.