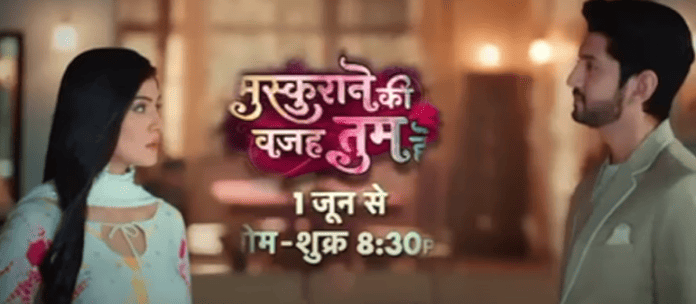 Muskurane Ki Vajah Tum Ho 12th July 2022 Written Update on TellyExpress.com
The episode starts with Uma telling Savitri that she is happy seeing their kid's happiness. Savitri says she never saw Kabir this much happy till date. Uma gets surprised. Savitri tells Katha that she can't wait anymore. She leaves telling them that she will send Haldi with Yuvi. Kabir takes care of Yuvraj. He tells sleeping Yuvraj that you need to grow up soon as my baby is coming soon and I can't tell to anyone because I promised Uma Ji. He leaves keeping note on Yuvraj's bed.
The next morning, Deepa says she designed everything. Yash praises her decoration. Everyone claps for her. Kabir asks them to start Haldi saying he can't wait anymore. Manju says she will apply to him. He says Mom will apply to me first. He calls his mom. Savitri applies Haldi to him and then wards off the evil eye from her son. Yuvraj wakes up and reads his brother's note to drink lemon water and have medicine to escape from a hangover and attend my Haldi. Yuvraj feels scared thinking Kabir learns that he was drunk. Kabir promises his mother that he can do anything for her happiness. Kishore and others family members apply Haldi yo Kabir. Neelam asks Gunjan to forget Kabir.
Uma calls Savitri and asks when Yuvi will come with Haldi. Savitri says she will send them soon and asks where is Yuvi. Yuvraj attends Manu's call. Manu mocks him for backing out from the competition. She asks him to get Haldi soon. Yuvraj thinks Katha can't be my bhabhi and it might be my illusion. Kabir asks Savitri to not get angry. Savitri says she is angry with Yuvraj and because of him I sent Haldi with Madhu and Kishore. Yuvraj comes there and apologizes to her mom. Kabir says he is tired of marriage preparations that's why he slept. Savitri asks him to stop supporting him.
Yuvraj says Kabir Bhai is lying mom and I overly drunk last night and I'm sorry mom, I won't repeat it. Savitri says your brother Kabir never lies unless it's to save you and you don't seem to bother. Yuvraj says he can give his life for his brother and hugs Kabir. Savitri prays that their bond doesn't get affected by anyone. Both will say it won't happen. Savitri asks Yuvraj to give Pustani Dupatta to Gatha on time to get her forgiveness. Yuvraj agrees. Uma asks Kabir to tell Yuvraj to make Gatha wear the chunri with her wedding dress.
Madhu asks Kishore how Katha is happy suddenly. Kishore says it's because of Kabir. Manu accidentally pours Juice on Madhu's dress. Uma asks Manu to clean it. Manu takes her. Kishore says to Uma that Kabir will make Katha happy for a lifetime. Kabir calls Uma and asks her to make Katha wear the Dupatta with the wedding dress they are sending with Yuvraj. Uma thanks him for making Katha happy.
Episode ends.
Precap – Uma says to Katha, that she has light in her and she will make everyone happy at Kabir's house and Kabir is there to support her. Katha will agree.
Click to read: