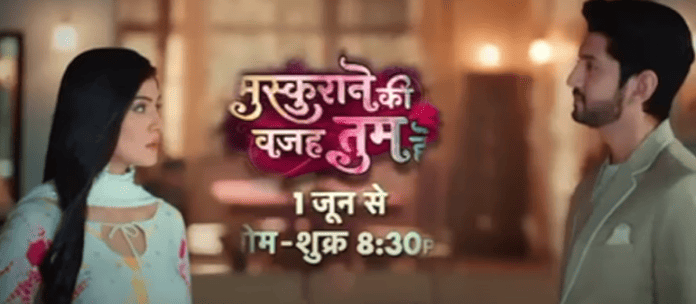 Muskurane Ki Vajah Tum Ho 13th July 2022 Written Update on TellyExpress.com
The episode starts with Kabir going to Yuvraj's room and noticing the sorry card. He sees Yuvraj and asks him if it's for his sister-in-law. Yuvraj agrees. Kabir says I know your intentions are not wrong but promise me that you won't does any mistake to ruin our reputation. Yuvraj agrees and tells him that he will support his brother and sister in law. He assures to hand over chunar to his Bhabhi on time. Kabir asks him to promise him that he will support his decision. Yuvraj agrees and sets the card. Kabir says he promised to correct the mistake which snatched Katha's smile then he says wish you meet your Bhabhi this time.
Yuvraj asks his friend if they mixed something in his wine as he saw Katha everywhere. They deny. Yuvraj says because of them he is giving a sorry card to his sister-in-law. Uma assures Katha, that she has light in her and she will make everyone happy at Kabir's house and Kabir is there to support her. Katha agrees and tells Manu that she can get all the love of Uma. Someone knocks on the door. Manu opens the door and collects the bouquet sent by Kabir for Katha. Manu takes Katha for a photo shoot telling her they can return the room before Yuvraj arrives.
Later Yuvraj comes to the room and calls for his sister in law. Uma tells Yuvraj, your bhabhi and Manu went to get the photoshoot done. She tells him she will give chunar to his bhabhi by himself as he promised Kabir. He takes it with him. Manyata makes Katha sit in front of mirrors for a photo shoot and she asks her to feel good. Photographer asks for a dryer. Manu goes to get it. Kabir chats with Katha.
Manyata collides with Yuvraj. He asks her about the photo shoot location. She tells him and asks him to not forget to hand over Chunar to her sister in his excitement. The photographer shoots a ghoonghat shot. Kathy slowly removes her veil. Yuvraj gets shocked seeing Katha in the mirror. He drops chunar. Katha turns. Yuvraj hides from her. Katha couldn't see him because of Kabir's message. Yuvraj says it means Kabir is getting married to Katha.
Manu sees Yuvraj and asks where is he leaving without meeting his Bhabhi. Yuvraj tells he doesn't want to disturb the photoshoot. Manu asks why he is taking back Chunar. Yuvraj tells her he will keep it in her room. He leaves. Yuvraj informs his friends that Katha is getting married to Kabir. They didn't believe then he vents his frustration Nd says Katha is back to and revenge on me. He shows them Kabir and Katha dance video sent by Manu. Tony asks why she changed her name. Yuvraj says I may not let happen this marriage if I know her name that's why she did it in this way. Yuvraj says she wants to snatch my family from me as revenge but I won't let it happen. He goes to confront her. Katha says Rahul, Yuvraj says it's Yuvraj, and how dare you to trap my brother to take revenge from me. Katha is shocked.
Episode ends.
Precap – Kabir slaps Yuvraj for playing with Katha's respect. Savitri disowns Yuvraj.
Click to read