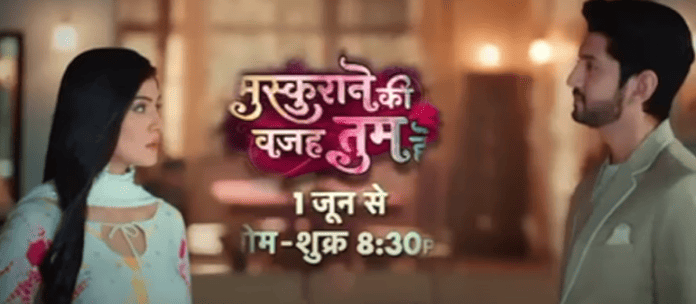 Muskurane Ki Vajah Tum Ho 9th July 2022 Written Update on TellyExpress.com
The episode starts with Yuvraj joining his brother and Mom. He apologizes to them for joining lately. He asks them to start the music. Tony searches for the switch to turn off the light. Manju enters inside with a mauli for Katha. She thinks why no one is available in the hall. Bhushan thinks Tony will book him. That time he receive a call. Bhushan disconnects it. Manju asks who is under the mandap. Tony calls Yuvraj and cuts the power supply. Manju tries to see who's under the mandap with mobile torchlight but Kishore calls her and asks her to come out. She leaves then Bhushan starts to cut the pillars.
Manju meets Katha and praises her wedding look and tells her Kabir can't take his eyes from her. Savitri says they have to enter inside quickly. Yuvraj reminds them that one more ritual is left and asks Uma to welcome Kabir by pressing his nose. Uma does it. Yuvraj heats the sound through the phone and thinks work is not done so he makes everyone busy with his dance performance. Manju ties mauli and asks Katha to not feel tense as Kabir will take good care of you and I will be in your team too. Katha says Kabir will never let her face any problem. Manju hugs her telling she is perfect for their Kabir.
Yuvraj asks Bhushan to do the work quickly as I can't stop Baarat for more time. He notices his phone is dead. Savitri enters inside the mandap. Yuvraj sees lights are on and thinks work is done. He enters inside and notices Mandap is fine. Yuvraj takes his friends aside and asks why they didn't finish his work. Bhushan says the machine is broken in the end moment and I cut 4 screws and one is left and the mandap may get broken anytime. Savitri and Kabir call Yuvraj to come on the stage. Yuvraj enters the stage and he sees every pillar with suspicion and feels worried for his family's safety. He asks his friends to not let mandap gets broken. He sends everyone from mandap saying something. He thinks about how to save Kabir.
Katha tells her mother that she is feeling tense. Uma asks her to trust Naini maa as she will be with you and Kabir will not let you face any problem. Kabir calls Kishore to be with him as he is his protector. Yuvraj calls for water. He drops water on Kabir and asks him to change his dress. Kishore says there is no time for it. Yuvraj insists on him. Pandit says muhurta time is nearing and he asks them to bring the bride. Kabir sees Katha coming downstairs.
Episode ends.
Precap – Kabir will feel happy seeing Katha. Yuvraj will see pillar of the mandap are about to fall on Kabir. He will save Kabir from the mishap but the pillar falls on him. Everyone will be worried shouts Yuvraj. Katha will see that and shouts Kabir.
Click to read