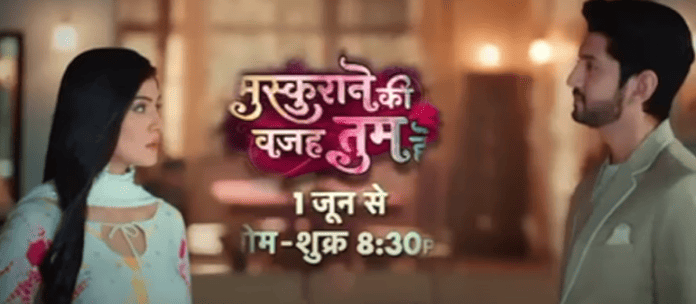 Muskurane Ki Vajah Tum Ho 1st July 2022 Written Update on TellyExpress.com
The episode starts with Katha saying to Kabir that she questions herself why he cheated on her and why he did it with her. Yuvraj tells his friends that Katha may think why I did it but I did because of my bet with Mukesh. Kabir swears on Katha's tears and tells her that he will make Rahul get punished. Friends ask what if she becomes pregnant.
Yuvraj says she will give her surname as she said. Katha says she doesn't know whether she can love her baby or not. Kabir says you're giving your name to your baby and it's showing how much you love her. Yuvraj says why we are talking about her? It's not like she is coming. Manny asks whom they are talking about. Yuvraj manages saying it's about Bhabhi.
Katha feels scared when the flight is landing. Kabir tells her that from today onwards her fear is his and his strength is hers. Katha feels good. Yash asks Madhu to not bring him to the airport the next time. Madhu asks him to not worry as marriage didn't happen yet. Whole family waiting at the airport to receive Kabir and his wife.
Kabir and Katha arrive at the airport. Sudden rain comes in Udaipur. Savitri says her daughter in law is lucky. Yuvraj realizes his puppets show dolls kept outside at home and he leaves the airport to keep them safe. Kabir and Katha come there and meet family members. Savitri warmly welcomes them with Aarti. Yuvraj keeps the dolls inside with his friend's help.
Savitri praises Katha's beauty and tells her that she is lucky to them as she bought rain along with her. Manu tells her mom that Savitri is like her son Kabir. Madhu tells Kabir that she is disappointed as he didn't tell her. Kabir says it's not good to delay the good things. He asks where is Yuvraj? Madhu says he arranged a surprise show which got spoiled due to rain so he return home.
Savitri meets Uma and tells her that they are making them stay at the hotel as it's their tradition to welcome a daughter in law post marriage with Gruh Pravesh. Uma tells her it's fine. Savitri assures her that she will treat Katha as her 4th daughter. Uma feels happy.
At the hotel, Kabir asks Katha to eat for their baby. Katha says you and your family are good and I don't know whether I can deserve you guys or not and I feel guilty until they know my truth. Uma asks Manu if Kabir family accepts Katha if they know her truth. Manu says they will appreciate Katha for her honesty. Katha asks Kabir to inform his mother about her pregnancy.
Kabir says he remembers his promise and tells her that he will inform his mother about her pregnancy before their engagement. Uma and Manu hear it. Manu asks her mom to relax. Yuvraj comes there to meet his Bhabhi and knocks on the door. He gets surprised to see the person who opened the door.
Episode ends.
Precap – Madhu reveals about Katha to her mother. Savitri refuses to accept Katha.
Click to read