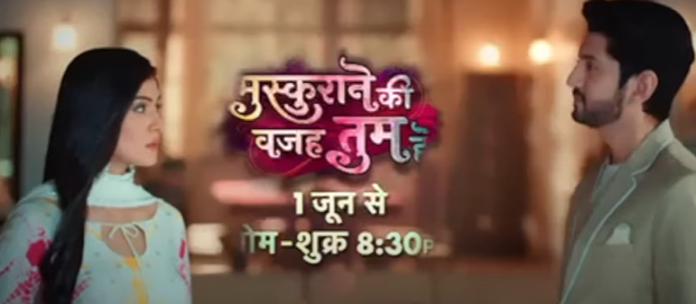 Muskurane Ki Vajah Tum Ho 21st June 2022 Written Update on TellyExpress.com
The episode starts with Manyata asking Uma why she is buying local sweets for Kabir and he may not like them. Uma says I feel he likes small things of life that's why I feel he likes this singodi sweet. Manu says you won't listen to me and Kabir is going to love your food. Someone spies on them. Uma sends Manu to arrange things for dinner at home.
Uma purchases things. Ward boy approaches Uma and demands 50k money in exchange for keeping Kartha's abortion hidden. Uma gets shocked and leaves the bags. Kishore asks the ladies to not involve saying Kabir can manage. Katha tells him they want to keep him. He asks them to cut dry fruits and tooty fruity. Katha feels dizzy and gets a vomiting sensation because of the smell. Kabir takes care of her and makes her feel better. Katha thanks him.
Kishore says ladies in Udaipur bakery are fans of Kabir. Fatima says their Katha is Jaan of their Ngo. Kishore says that's why they are ram milaye Jodi. Fatima asks what. Kishore manages her saying he is talking about their work reunion. Kabir makes Katha smiles. He prepares banter. Lady says they don't have an oven.
Kabir says he can prepare it without an oven. Kabir won't let Katha lift the heavy vessel saying it's not good for the baby. Katha asks how he knows about pregnancy. Kabir tells her that he knows it because of his sisters. Katha tells him she likes joint families but ours is a small one and my family is my strength. Kabir says he feels the same. He prepares the cake with help of Katha.
Ward boy tells your daughter is famous do give me money to hide your Katha secret. Uma runs from him saying they don't have that much money. She hides behind a tree. Ward boy shouts saying he will ruin their reputation. Uma listens to it in fear. He goes near her but she escapes by bus. Kids enjoy the came and say they can eat regular cake because of their bakery.
Katha says it's decided that they are going to work for you. Kishore asks Kabir to make Uma end Manu taste his cake giving him a cake. Katha talks with Fatima. Kishore praises Katha. Kabir smiles seeing her. Katha presents a gift prepared by a kid to him and thanks to him for saving their 10tg anniversary celebration. Kabir asks her to never lose her smile and tells her that it's good.
Colony people see Uma's state and ask if she is fine. She tells them fine and thinks about how these people will react if they know about Katha is pregnant. Uma locks all doors and tells Manu about how the wardboy blackmailed her. Manu asks her to not get scared of his threats. Someone knocks on the door. Uma asks Manu to not open it. Manu opens it saying it might be Kabir but they get shocked seeing ward boy. Ward boy blackmails them that he will tell everyone about Katha's pregnancy.
Uma tells him she will arrange the money. He threatens them. Kabir beats him. Ward boy asks Uma if she is doing this kind of business. Kabir slaps him for talking at a low level. Ward boy raises his hand. Katha comes in between and warns him to teach a lesson. Ward boy says he knows how to set her and he takes her Dupatta when his feet slip and she is about to fall with him but Kabir saves her.
Episode ends.
Click to read