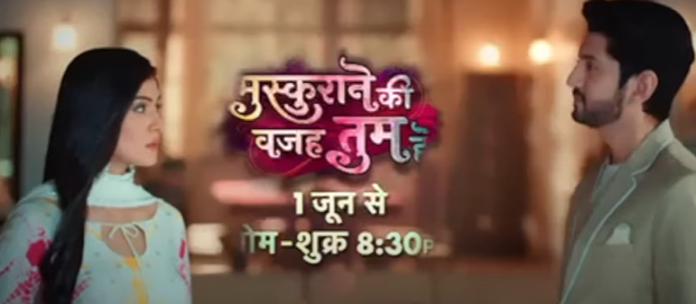 Muskurane Ki Vajah Tum Ho 22nd June 2022 Written Update on TellyExpress.com
The episode starts with Kabir saving Katha on time and asking if she is fine. Kathy nods yes. Ward boy tries to attack Kabir. Katha smacks him. Shabnam arrests ward boy. She asks him to apologise to Katha. Ward boy apologises to her. Kabir says you asked Katha what her kind of woman is called but you have to know what kind of men youre. Shabnam takes Ward boy with them. Kabir helps Katha to clean the floor.
Manu serves him tea and thanks to him for coming on time. Katha says Mom warned me about him that's why we return quickly but Mom is still stuck in shock. Kabir tells Uma to not worry and says that the ward boy spoiled the food and I thought I can taste your hand food but I will come in the next time to eat food. Uma asks Kabir to stop and tells him that she will arrange something for him to eat and asks him to wash his hands. Manu goes to help his mom.
Manu sees her Mom preparing so many Parathas. Katha thanks Kabir for his help. They talk with each other. Manu sees them and thinks they are perfect for eachother. She calls them to eat Paratha. Uma apologises to him for not preparing proper food. Kabir tells it's enough for him. Katha refuses to eat. Kabir makes Uma eat the Paratha. Manu feeds Katha.
Kabir tells Katha that he will meet her tomorrow to finish the formalities. Manu thinks they will meet regularly. Kishore comes there. Kabir tells him he ate all parathas as they are yummy. Kishore says Yuvraj may be packed them too. Manu says Yuvraj? Kabir says he is my brother and full of life and I treat him like my kid.
Uma thinks about Wardboy and burns her hand. Katha feels worried for her. Uma says you feel worried for my wound but I'm feeling worried for you and your baby and Rahul cheated on you and you want to keep this baby so start to think like Mom and your baby have to face the questions of society that who's his father.
Manu goes to stop them. Kishore asks Kabir if she is pregnant. Manu tries to stop them. Katha says she decided to fight for her baby and I can't see you in this state so I'm planning to leave from here. Uma warns her not to take this kind of decision. Kabir asks Uma to relax and tells her that Katha will get a good partner and I'm with your daughter and the relationship won't get started with lies. Uma says these lines are good to say but let me ask you one question, do you have the courage to marry Katha even after knowing that she is pregnant.
Kabir looks on. Uma asks why he stands silent. Katha asks her Mom why she can behave in this way with their guest and leaves. Uma sees Kishore. Manu tells her Mom that he is Jiju of Kabir. Uma tells him namaskar and leaves.
Episode ends.
Precap – Katha apologises to Kabir for last night's incident. Kabir proposes her to marry him.
Click to read