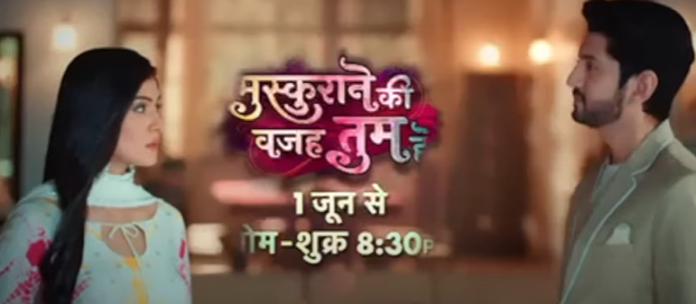 Muskurane Ki Vajah Tum Ho 23rd June 2022 Written Update on TellyExpress.com
The episode starts with Kishore, He shares to Kabir that whose mom will search groom for such daughter? Kabir asks him doesn't he praised Katha yesterday and blaming her today. Kishore complaints that she got pregnant before marriage doesn't it showing her character and upbringing? Kabir says that its not her mistake but someone betrayed her after giving hope to her. Kabir says that she is very good girl. Kishore asks him to don't give nod to Uma's request. Don't ever think about that. Kabir reminds her words and leaves. Uma shares to Manu that she done wrong. She shouldn't have asked like that to Kabir in front of Kishore. Manu consoles her and asks her why don't they marry each other? Uma tells her its wrong we shouldn't think like that. Manu tries to make her understand. Meanwhile Katha reminds her mom's word another side Kabir recollects Katha's moments with him. Kabir doubts why did he often thinking about her. Why didn't Uma's words are not leaving from his mind.
Uma asks god will Manu's words turns true? Doesn't god knows everything. She asks god to say whether Katha gets a happy life or not? Will Kabir give a good life to Katha. Kabir writes poetry and comes to an decision Katha is the girl whom he searching for. She is the reason for his happiness. Later Katha asks the workers to hurry the work there. She ignores Kabir and pretends like she is busy in handling everything. Kishore says to Kabir that they wanna leave from here after finishing their meeting. Kabir is determined to talk with Katha today itself.
Kabir keeps follows Katha but she leaves from his sight. Kabir looks at himself in mirror kids laughs at him. Kabir meets Katha and tells her he is trying to talk with her for long but she seems busy. Katha tells him that she was trying to apologize to him yesterday. Kabir says to her whatever aunty said its not wrong. He mistakenly turns on the mike. Kabir asks Katha will she marry him? Everyone listens to it and asks Katha to say her answer.
Kids asks Kabir will he visit them often if he married to her? Fatima asks Kabir to follow her and make her say yes. Katha reminds her mom's words and the way he proposed her. She breaks down in tears. Kabir apologizes to her for his announcement. Katha shares to him that she feels herself small in front of him. He asks him why would she feel like that? She asks him Is he trying to give his initial to her baby out of sympathy? Kabir clears with her that he proposed her because he likes her. Katha adds that she don't need anyone sympathy and her baby will get her initial.
Later Uma scolds Manu for being lazy. Uma notices Katha returned to home. Katha informs to them that Kabir proposed her to marry him in front of all. Uma and Manu gets excited and talks about their marriage. Katha's reply makes them disappointed. She clears to them that she rejected his proposal. She adds that Kabir don't wanna suffer because of her mistake. Uma tries to convince her that Kabir not doing it out of sympathy but he really likes her. Manu reveals to her that she is his inspiration that's why he started creating cake. Katha shares to her that everyone can do it but marriage is not easy one.
Katha says that Kabir is a very good person she don't wanna give trouble to him. Uma asks her what's wrong with this? Katha tells her if she accepts his proposal she will fall down from his sight. She wanna be independent like mom doesn't she taught her to be like this. She can't be a happiness of him. Uma gets disappointed with her decision. Manu asks her to think patiently about it. A person like Kabir won't come to their often she shouldn't miss him. Katha reminds the way Kabir supports her. Katha is adamant to take care of her child alone. Manu tries to makes her understands its not sympathy but love.
Episode end
Precap; Kabir will share to Katha that he wanna protect her baby and give happiness to her life long. He will confess his love to Katha. He will ask her to take an good decision and walk away. Coin will fall down from his pocket. Katha will remind that she threw it on pool and ask him where did he get it?
Click to read