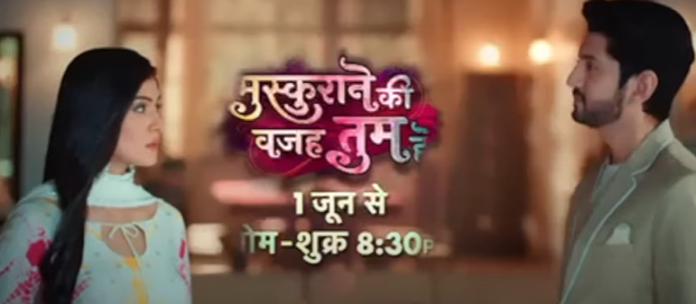 Muskurane Ki Vajah Tum Ho 24th June 2022 Written Update on TellyExpress.com
The episode starts with Kishore saying he become a fan of Katha as she rejected the proposal of hot hunk. Kabir asks why he is praising her when he is against their relationship. Kishore says you proposed to marry her as you feel sympathy for her and you met her a few times and it can't be love. Kabir says he will prove it and smiles seeing his muskan cake. Kabir meets Uma. Uma apologises to him from Katha's side. Kabir tells her that he fall in love with Katha. Uma blesses him. Kabir asks Uma permission to talk with Katha once and tells her that it's not his sympathy and his love.
Katha comes out of her room. She requests him to leave. Kabir says I didn't stop you when you're telling your opinion so give me a chance to tell my version. Katha goes to her room. Uma asks him to talk with Katha. Kabir asks Katha to sit. He tells her how much he started loving her and tells her that he feels happy when her thoughts come to him and don't know when I fall for you but I know that I love you and my respect for you is getting increased day by day. Katha wipes her tears. He gives her Muskaan cake and tells her that she is his inspiration to make that cake and asks her to become his life partner. Katha says she can't comprise with her self respect.
Kabir says you don't need to do it and I also don't need to give justification to anyone and I want to live with you. He tells her I love you, Katha. Katha looks on. Kabir tells her he accepts her baby too as her baby is part of her and he is not feeling sympathy but his love and asks what's the problem to marry him. Katha says she lost trust in love. Kabir tells her he won't force her and tells her that he waits for her in his whole life and tells her that he really loves her. Uma and Manu feel happy hearing his confession. Uma prays Naini maa to make Katha accept the Kabir.
Kabir takes the coin he got in the fair and tells her his Mom word about that coin and asks her to keep it with her. Katha sees the coin and asks where he gets it. She shows it to her mom. Kabir says he gets in the fair. Uma says it's a sign. She tells Kabir that it's the coin of their dad and I make her throw it for her partner. Kabir says his mom's words are true regarding the coin. Uma asks Katha to accept Kabir's proposal as you got a clear sign. Kabir asks Uma to not force Katha. He asks Katha to take her time. He leaves. Uma and Manu ask Katha to accept Kabir for their happiness. Katha stops Kabir and accepts his proposal. Manu hugs Katha saying finally she is going to get married. Katha says she has a condition.
Kabir asks her to tell. Katha asks him to tell his family members about the truth before their marriage. Uma says it's your personal and why to tell him. Katha says I don't leave Rahul so Kabir's family needs to know it as I can't bear if anyone treats him as another person. Kabir tells her it's going to be their baby and I will be a hero to him and my family will encourage you to punish that culprit and I accept your condition and I will marry you after telling truth to my family. Uma says Katha is lucky and asks her to accept him. Katha accepts him nodding yes.
Episode ends.
Precap – Kabir presents the bracelet, Katha. Kabir tells his brother that he is going to marry and his brother is none other than Kabir.
Click to read