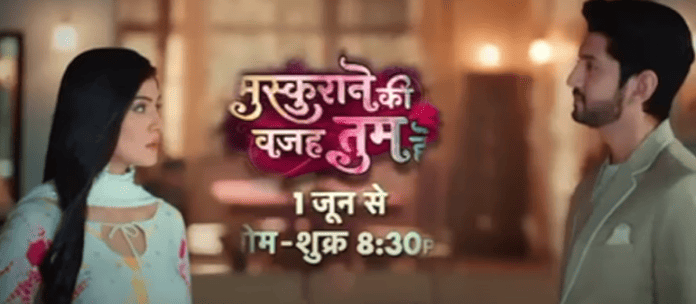 Muskurane Ki Vajah Tum Ho 2nd June 2022 Written Update on TellyExpress.com
The episode starts with Pandit asking them to bring the bride. They make Neeti sit with Mukesh. They do Gathbandan. Katha unties their Gathbandan. Groom's father asks what's happening. Everyone asks why she is spoiling her sister's marriage. Katha tells Mukesh kept them in darkness. Neeti says she knows about his secrets. Katha asks if she knows about his 6 years daughter and he was in live in with Jyoti till date and cheated on her. She shows them photos. Mukesh says those are photoshopped photos. He asks Neeti to marry him. Katha asks Neeti to trust her and show her courage.
Neeti slaps him. He asks how dare she. Neeti says she got courage from her sister. Mukesh says he won't leave until he marries her. Katha stops him. Shabnam arrests him. Mukesh says he doesn't marry Jyoti. Katha says Jyoti doesn't want to be with you. Mukesh scares Jyoti by telling her she can't raise her daughter without his name. Katha says Pihu doesn't need your name and presence, today onwards her name will be Pihu Jyoti Varma. Everyone claps for her. Shabnam takes Mukesh with them.
Katha tells her Mom that she doesn't have another way to save her sister's life. Uma hugs her. She tells she is proud of her. Neeti's father is about to remove his pagdi but Katha tells him it's his proud moment. He asks what about her marriage. Uma says she will search groom for Neeti too along with her daughters. Jitesh tries to stop Pallavi. Uma asks where they are leaving. Pallavi tells they don't need a social worker like Katha who brings daily tensions to their home. She calls off the alliance. Uma says don't know where is my Katha's husband. Katha asks if she feels her a burden. Uma says no but I'm waiting for your groom.
Manu shows Katha that her video is getting viral. Katha walks on the road. Some kid remove stone from a car tyre. Car owner tries to warn. That car moves forward and it's about you hit Katha but Rahul saves her in time. Katha scolds the kid but Rahul sends him to play cricket. Katha asks how can he leave him. Rahul tells her she needs to thank him for his help. Katha tells thanks and is about to leave. Rahul asks how can she tell in this way and argues with her. Katha tells she works in auto and is about to leave in her scooty. He tells her he saw her somewhere. Katha says she is not that kind of girl and leaves.
Kabir and his Mom come to Nainital mela. Kabir asks if they traveled many km to come here believing Baba's words. His mom says I trust his words and your 3 sisters are settled and your brother completed his MBA so it's good if you settled with marriage then your Dad feels happy. She thinks she believes Baba's words. Katha comes there for blood donation. Kabir hears a shooting sound. He goes and plays that game. Kala tells Katha that no one is giving blood in the mela. Katha says someone will definitely give. Katha catches the guy who cheats in the game with magnet. Kabir shoots the aim and wins the prize. Katha confronts a shopkeeper and questions their license.
Fatima announces in mike that they need o negative blood to save mother and baby. Kabir and Katha go to donate their blood. Katha hears blood needs to be taken on time to the hospital. Katha takes blood with her and assures to take it to the hospital ok time. Kabir notices Katha is hurt. They cover their faces because of smoke. He tells Katha that he will take her to the hospital to save mom and baby. On the way, Kabir sees her face. Katha delivers blood to Doctor on time. Doctor thanks her. Katha goes out to thank Kabir. Watchman gives her keys and tells her the man who bring her gave him. Katha sees a letter from Kabir on her bike that he got inspired by her and leaving because of his Mom's call. Katha miles.
Episode ends.
Precap – Katha throws Sikka on water. Kabir gets it. His mother asks him to keep it. Katha spoils Rahul's camera but later helps him by knowing he is a journalist.
Click to read