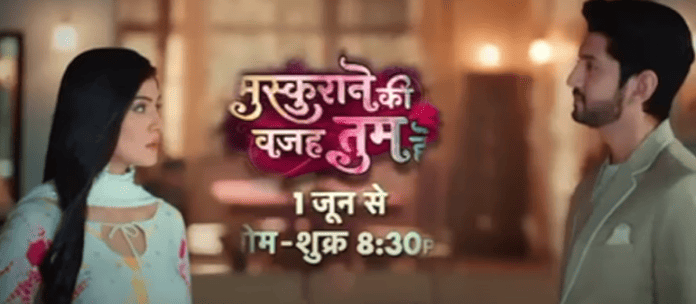 Muskurane Ki Vajah Tum Ho 30th June 2022 Written Update on TellyExpress.com
The episode starts with Kabir receiving Yuvraj's call and asking what are those sounds. Yuvraj says celebrations got started. He asks him to show his Bhabhi face. Kabir handovers phone to Katha. Deepa snatches the phone from him. She sees Katha and praises her beauty. Yuvraj didn't get the phone. Manju takes the phone and praises the pair of Kabir and Katha. Yuvraj tries to snatch the phone. Uma comes there and covers Katha's face with a dupatta. Yuvraj takes the phone but he didn't see her because of a network issue. His nephew says he won't get the network in that place. He calls Kabir to talk with Katha but he couldn't due to a bad signal. Kabir tells him he will send their names for card printing. Katha tells she likes their bonding.
Yuvraj receives message but he couldn't read it because of his friend's entry. They say Kabir deleted the message. Kabir recalls pandit words and sends Katha's name as Gadha. Yuvraj reads it. His friends say your brother got his girl in Nainital. Yuvraj asks what's the problem with Nainital. They ask if he forget about Katha. Yuvraj asks them to forget it and tells them he becomes Lakshman if he reaches home and he tells them that he is arranging a puppet show to welcome his Bhai and Bhabhi.
During the flight, Uma tells Kabir that she will talk with his mom about the alimony and other things. Kabir tells her that her daughter is precious and they need to give her money in return for her and tells her he wants them to become a family. Uma smiles and tells their Katha is lucky. Yuvraj asks his friends to choose hashtags for his brother's marriage. They say, Katha. Yuvraj says we are remembering Katha many times and I cheated her to win the bet. His friends ask how he trapped Katha.
Kabir notices Katha is feeling scared. Uma tells him about Katha's fear. Kabir sits beside Katha and asks why she is feared of heights when she can risk her life for others. Katha says he said the same. Kabir asks her to tell him what happened. Yuvraj tells his friends how he trapped Katha with a diary. Katha tells Kabir how Rahul trapped her with his words and escaped from the ropeway with the help of a parachute leaving her. Yuvraj says trapping girls are easy and I broke her heart. Katha tells Kabir how Rahul broke her heart and self confidence and she doesn't know whether she can trust anyone or love anyone in her life.
Episode ends.
Precap – Yuvraj plans to welcome his Bhabhi like a Bollywood celebrity but he gets shocked seeing Katha coming with Kabir.
Click to read