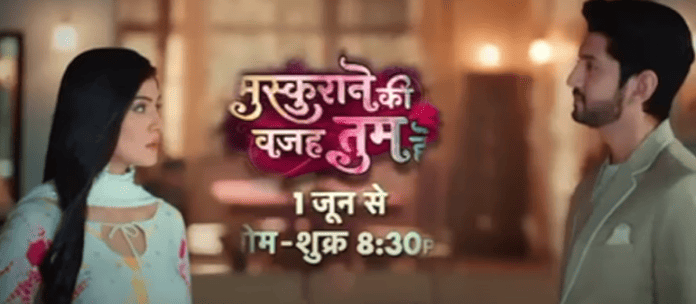 Muskurane Ki Vajah Tum Ho 3rd June 2022 Written Update on TellyExpress.com
The episode starts with Manu on live saying to her followers that she will give shout out to people who win the contestant by posting their photos donating their blood. Uma receives her refund. She sees Katha and asks her to throw the coin in the water to fulfill her wish. Kabir prays for his mother and family. Katha also prays for her mom and Manu. She asks her mom to give her the coin. Uma gives her Dad's coin. Katha says I miss you dad seeing the coin. She throws the coin. Kabir gets the coin and thinks whose coun it's. He sees the back side of Katha. He shows that coin to his mom. She says it might belong to your life matter so keep it safe with you.
Kabir takes photos. Another side Rahul takes photos. Katha assumes he is taking her photos and spoils his camera. Jyoti comes there and tells her he is a journalist who came to take her interview. Katha says she thought he is stalking her. Rahul shows her a video of her and tells her that he saw her in the video and she didn't even apologise for her mistake. He thinks about how to cover mela. Fatima asks Katha to apologise to him. Katha offers to help him. Rahul warns her to never judge the character of others. He leaves from there.
Madhu feels happy seeing the things her Mom gets from mela. Manju says the house got life with their entry. Kabir's mom tells she will gift a necklace to the one who finds a good bride for Kabir. Neelam suggests Gunjan. Madhu tells her they will choose the bride and they don't want her sister. Neelam wishes her a happy birthday and asks which gift she wants. Madhu tells her she will take it from Kabir.
Katha apologizes to Rahul. She tells him she will help him to get his camera get repaired and asks him to cover Jyoti's story. Gunjan admires Kabir while he is doing exercises. Neelam asks Gunjan to make everyone choose her for Kabir. Gunjan tries to impress Kabir but he doesn't give her a chance. She leaves his room. Kabir smiles and recalls his encounter with Katha.
Rahul feels happy when his lens gets repaired. She pays the mechanic. Rahul tells her he is hungry. She tells she will make him taste Nainital food. Kabir tells her he needs her interview to inspire others. Katha agrees. Both spent time while taking her interview. Rahul insists Katha to get on the giant wheel. Madhu receives a diamond set from her husband. She mocks her sisters saying Kishore is poor and Ravi stays far from home because of their navy job. Kabir asks her to not talk about the poor and rich as the important thing is character and Kishore jiju doesn't let me feel Dad's absence that's why I made him marry Manju di. Madhu asks if Yuvraj didn't come. He tells he sends gifts as he is busy in the workshop. Madhu asks him for her gift. He asks her to buy what she wants. He is about to give her a card. He sees the coin and recalls Katha. Katha gets scared in the giant wheel and hugs Rahul in fear.
Episode ends.
Precap – Katha decides to celebrate Rahul's birthday.
Click to read