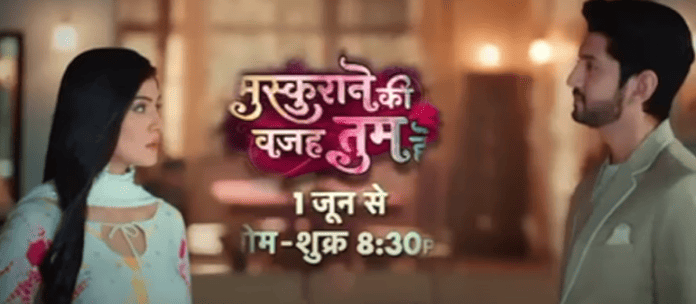 Muskurane Ki Vajah Tum Ho 5th July 2022 Written Update on TellyExpress.com
The episode starts with Savitri asking Madhu why she is talking in this way. Madhu says I know what Kabir wants to say to you and she calls Uma's family with bad names. Kabir tries to stop her. Madhu asks what she did to you that you're ready to marry a pregnant lady. Savitri gets shocked and asks Kabir if it's true. Kabir agrees. Uma tries to talk with Savitri. Savitri refuses to talk with her. Madhu says they ain't accept this characterless lady. Uma says what will happen now. Savitri pats her. Uma comes out of her imagination. Manju tells his mother that they need to attend to guests. Kabir tells his mom that he needs to tell her something. Savitri receives Deepa's call that muhurta is nearing. They leave. Kabir goes with them. Uma thinks she needs to talk with Kabir.
Yuvraj arranges for a puppet show and his voice gets spoiled because of a cool drink. He hears a dhol sound and goes to receive his brother. He hugs his brother then he messages Manu to bring Gadha. Gadha comes to the venue. Yuvraj wants to see her but his nephew spoils the threads of a puppet so he unties them. He tries to see her face but he couldn't because of the crowd. Kishore asks Yuvraj if everything is ready. Yuvraj agrees.
Kabir tells Katha that he will tell his mom the next day morning as she is busy now. Katha asks him to do it quickly for her mother's peace. Yuvraj starts his show with his poetry. Kabir proudly tells Katha that it's his brother. Deepa says what happened to his voice. Manju says might be because of drink. Yuvraj performs the puppet show with his family member's dolls and welcomes Gadha to their family. Everyone claps for him. Yuvraj tells Kabir lines for Katha. Katha tells Kabir, she doesn't know if she deserves this much love or not. Kabir says she deserves all the love. Yuvraj asks them to start the engagement. He tells my brother is shy to tell the promises so I will tell them from his side.
Bawri tells her husband that Yuvraj didn't include them in the family song and it's showing our importance to them. Chacha says he is noticing everything. Manu thinks her family is happy after a long time. Kabir makes Katha wear the engagement ring. Katha also puts a ring on his finger. Everyone claps for them. Katha recalls Rahul seeing bubbles. She collapses in pain.
Episode ends.
Precap – Madhu will stop Uma from entering inside and she says Kabir wants to tell some important matter to her. Uma will ask what's the matter. Kabir will apologize to Uma and says I thought everything will be fine but I was wrong and I can't marry your daughter even when I want to. Uma will get shocked to hear it.
Click to read