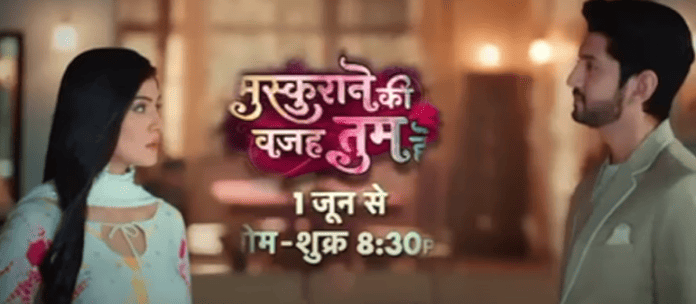 Muskurane Ki Vajah Tum Ho 6th July 2022 Written Update on TellyExpress.com
The episode starts with Katha feeling pain in her stomach. Everyone feels worried for her and asks her what happened. Katha says she is getting cramps. Uma asks Kabir to take Katha to the room. Yuvraj comes there to see what happened. Kabir lifts Katha and her face is covered with Dupatta. Yuvraj comes there and her dupatta gets stuck to Yuvraj's watch. Uma separates it. Madhu thinks to find out what's the matter. In the room, Kabir tells Katha that everything is fine as I talked to Doctor on call. He asks Katha to walk for some time. He helps her to walk on her toes.
Manyata receives Yuvraj's call. She thinks to attend it later. Katha feels fine. Kabir tells Uma that everything is fine. Uma asks him how he will handle his family. Katha asks him to reveal her pregnancy matter to his family soon as she is feeling guilty seeing their love. Kabir asks her to give him some time and I will reveal to everyone when the correct time arrives.
Madhu comes there and asks what he wants to reveal to everyone. Kabir says Gatha is special and I will reveal what's it post engagement. Madhu sees hot towels and asks if they are hiding anything from them. Kabir says those are to remove her makeup. Madhu says she can sense matter is something else and my Kabir won't hide anything from me. Kabir says he is not hiding anything. Madhu thinks something is wrong for sure and leaves the room.
Madhu tells her husband that there is something wrong with Katha. Yash tells he is unable to face Swetha's father. Madhu tells him still they can stop the marriage. Yash smirks. He makes Rawat drink wine and asks why Katha getting pain. Rawat says it might be because of dieting. Yash asks whether it happened before. Rawat tells how Katha alliance got canceled.
The next day morning Rawat informs Uma that whatever he revealed to Yash about Katha. Uma gets worried. She thinks she won't let this marriage get halted and she decides to ask Kabir to not inform his family about Katha's pregnancy. Uma comes to Kabir place. Madhu stops Uma from entering inside and she says Kabir wants to tell some important matter to her. Uma asks what's the matter.
Kabir apologizes to Uma and says I thought everything will be fine but I was wrong and I can't marry your daughter even when I want to. Uma gets shocked to hear it. She says she will talk with his family. Kabir says sorry aunty, nothing can be changed. Uma feels dizzy. They make her sit. Yuvraj asks Kabir to tell her about the ritual. Savitri says sorry but it's just a part of the ritual. Madhu mocks Uma.
Episode ends.
Precap – Kabir sings poetry for Katha. Kabir asks Katha to tell him what's her fiancee name is. Katha says, Kabir.
Click to read