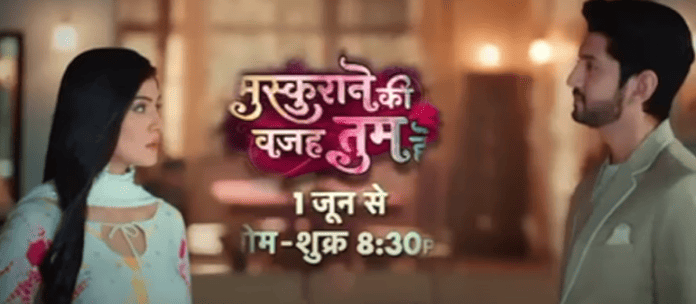 Muskurane Ki Vajah Tum Ho 8th July 2022 Written Update on TellyExpress.com
The episode starts with Uma saying she took the promise from Kabir to not inform his family until you guys get married. Katha asks why. Kabir says she will become his wife post marriage and promises her that he will reveal pregnancy matter after their marriage. Uma thanks him. Kabir leaves asking them to get ready for Sangeet. Kishore sees sangeet arrangements. Yuvraj does his dance practice with his friends. Manu points hid moves. She leaves getting to know Yuvraj will perform in the last. Yuvraj drinks some wine because of his friend.
Katha gets ready while thinking about Kabir's promise. Her cousin comes there and tells her that she starts to trust in marriage again after seeing Kabir and tells her she wants a groom like him. Uma says it's tough but I will make you get a person who can match Kabir. At Sangeet, Uma asks Katha to trust Kabir and feel happy. Yash tries to make Kishore drink but he doesn't take it. Deepa talks with Ravi on a video call and tells him that she is angry at him for not attending the event. Manu announces the performance. Kabir family ladies perform it. Manu asks her mom to join them but she denies it. Kabir requests her then she agrees. Katha thinks about how to hide her truth from lovely people like them.
Kabir passes chit to Katha. She smiles reading she completes him. Manu asks Yuvraj what's he doing in backstage and asks him to see her rocking performance. Yuvraj practices his performance but he couldn't do it on his drunken stage. His friend asks what happened to him. They go to watch Manu's performance. Manu rocks with her performance. Yuvraj and his friends feel scared. They drink more and practice in backstage. His friend says Katha Bhabhi will become his fan seeing the performance. Yuvraj warns them to not take Katha's name as my bhabhi name is Gadha. He drinks more. Manu says Yuvraj challenged me that he performs better than others and announces Yuvraj's performance.
Yuvraj tells his friends that her will go alone. Kabir tells Katha that his brother practiced a lot. Yuvraj comes to the stage in his drunken state. He sees Katha on screen and gets shocked.
Episode ends.
Precap – Rajeev decides to cancel Katha and Kabir marriage.
Click to read