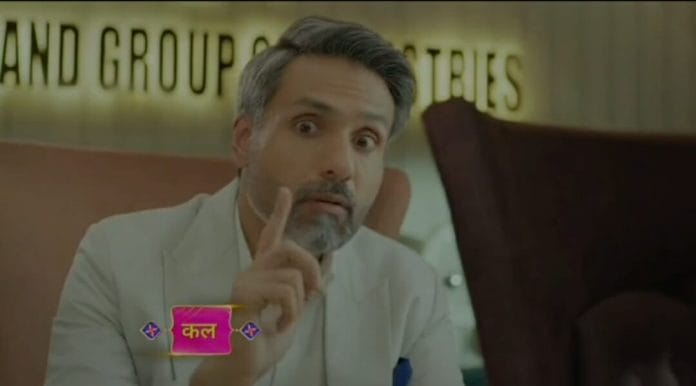 Na Umra Ki Seema Ho Spoilers, Upcoming Story, Latest Gossip , Future Story, Latest News and Upcoming Twist on tellyexpress.com

Na Umra ki Seema Ho is the newly launched show of Star Bharath. This show is about Vidhi, a young woman who falls in love with a middle-aged tycoon, Devratha! Now, the series focuses on Vidhi will be anxious
In today's episode we see Amba gives the Raichand all of her asserts in exch for Dev's hand in marriage. She adds that she is respecting Raichand family traditions. She will do anything to get him in her life. She reveals her asserts worth to her and pleads with Sathyavathi to perform her marriage with Dev.
Later, Dev waits for Dev in his cabin and wishes to call Dev. Arjun comes there and asks her where she is lost? Vidhi tells him that office is quite something is missing here. Arjun says that Dev is missing here. Does she missing Dev? He says that he is also missing him. Arjun asks her doesn't she like the earrings he gifted to her?
He says to her that she didn't wear the earrings. Vidhi says to him that she will wear it after she gift a return gift to him. Arjun tells her it's unnecessary. Arjun agrees to accept her return gift. Golden records their video.
Later, Yogesh discussing about Amba's proposal. Dev refused to marry Amba. Yogesh badmouth about Vidhi which makes Dec furious. He lashes out at him in anger.
In the upcoming episode viewers will see; Dev will advise Vidhi to don't accept their friends as their life partner. Vidhi will share to him that she doesn't have many friends. Arjun is her only friend.
He is a decent one. Vidhi will say to him that he warned her to don't discuss personal matter in the office. But, she wants to say something to him. Bimla will call her on time. Dev will ask her to attend the call.
What will happen next? Will Vidhi find out the truth? When will Dev fall in love with Vidhi?
The upcoming episode will answer all our questions and stay in tune with our space for more updates.