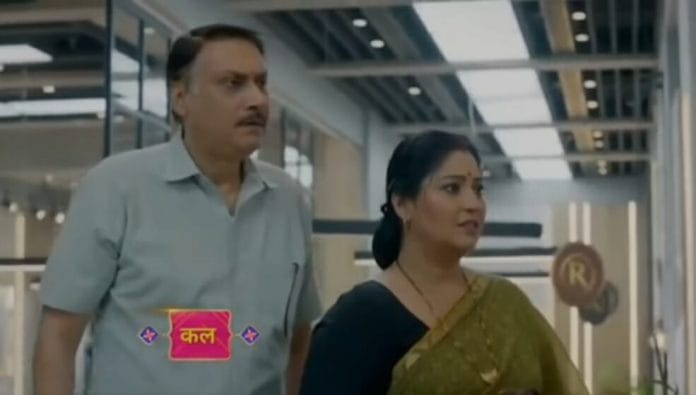 Na Umra Ki Seema Ho Spoilers, Upcoming Story, Latest Gossip , Future Story, Latest News and Upcoming Twist on tellyexpress.com
Na Umra ki Seema Ho is the newly launched show of Star Bharath. This show is about Vidhi, a young woman who falls in love with a middle-aged tycoon, Devratha! Now, the series focuses on Vidhi will be hurt
In today's episode we see Bimla asking Vidhi to get ready asap. She is getting late for her office. Vidhi comes there pretty tired. Bimla asks her why she isn't get ready yet? Vidhi tells her that she will get ready later. Bimla asks her what happened to her? She never lazy to go to office.
Vidhi tells her that she isn't taking off. She will leave later. Hariprasad leaves to check the person. Bimla asks her what's bothering her? Vidhi lies to her as nothing. Hariprasad returns there and informs her that Dev called her yesterday. Vidhi questions them why didn't they wake her up? Vidhi apologize to her and leaves.
Bimla says to Hariprasad that she is behaving weird. Later, Rishab gives sweets to Kanika and tells her marriage fixed. Kanika asks him whose marriage? Rishab tells her that Dev finally going to get married. Kanika gets excited to hear it.
Later, Chithra and Vickram visits Dev's house. Priya and Abhimanyu welcome them. Priya inquires Chithra how is everything going on there? Chithra says that she is so excited and preparing everything asap.
Later, Kanika gives surprise to Dev. Vidhi congratulates Dev for his marriage. Meanwhile, Amba invites Bimla for her engagement and take her permission to perform her engagement in Milani Maa temple.
In the upcoming episode viewers will see: Hariprasad and Bimla will visit the office to congratulate Dev. Dev will lashes out at Vidhi for often her parents visit the office. Hariprasad and Bimla will get hurt to hear it
What will happen next? Will Vidhi find out the truth? When will Dev fall in love with Vidhi?
The upcoming episode will answer all our questions and stay in tune with our space for more updates.