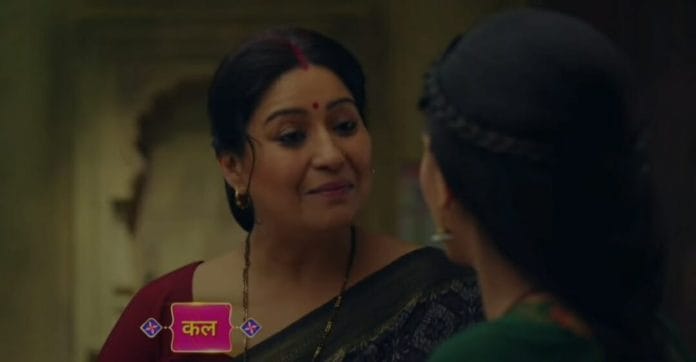 Na Umra Ki Seema Ho Spoilers, Upcoming Story, Latest Gossip , Future Story, Latest News and Upcoming Twist on tellyexpress.com
Na Umra ki Seema Ho is the newly launched show of Star Bharath. This show is about Vidhi, a young woman who falls in love with a middle-aged tycoon, Devratha! Now, the series focuses on Vidhi opens up with Arjun
In today's episode we see Urmila complaining to Golden that she went out without informing her. Golden lies to her that she had some office work. She thinks that she was hiding the truth for Arjun. Meanwhile, Vidhi shares with Arjun that she opened up her feelings to him because she is trusting him a lot.
He won't think anything bad for her. Dev inquires Hariprasad doesn't they give any notice earlier? He shares with him that they came tp demolish their house out of the blue. Vidhi and Arjun reaches there. Hariprasad says to Dev that Arjun saved them on right time. Arjun shares with Dev that he went to get sign from Amba.
She helped him to get the stay order. Dev doubts what's her role in it. Meanwhile, Kanika inquires Amba to share the reason behind this party. Amba says to her that Arjun helping others. Kanika says to her that Arjun has helping tendency. But Vidhi is his best friend.
Amba suggests her to take Vidhi's hands for him. Kanika reveals to her that she already discussed about it with Bimla. Later, Abhimanyu asks Vidhi to convince Dev to marry Amba
In the upcoming episode viewers will see; Abhimanyu will ask Vidhi to don't forget about his deal with her. She wants to convince Dev to marry Amba. Meanwhile, Vidhi will question Bimla which one comes first in our life Sacrifice or love? Bimla will advise her that we sacrifice for our love
What will happen next? Will Vidhi find out the truth? When will Dev fall in love with Vidhi?
The upcoming episode will answer all our questions and stay in tune with our space for more updates.