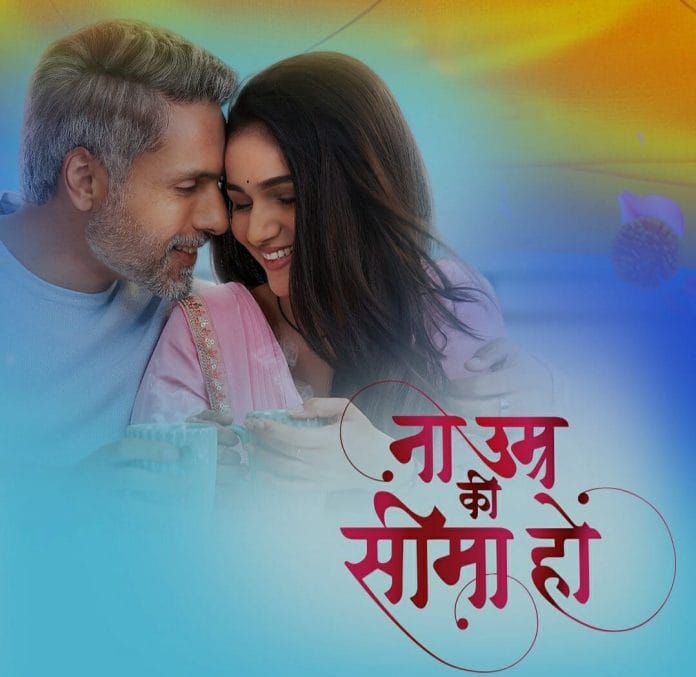 Na Umra Ki Seema Ho Spoilers, Upcoming Story, Latest Gossip , Future Story, Latest News and Upcoming Twist on tellyexpress.com

Na Umra ki Seema Ho is newly launched show of Star Bharath. This show showing Vidhi, a young woman falls in love with a middle aged tycoon Devratha! currently serial focused on Dev offered Job to Vidhi but she rejected it.
In the previous week we have witnessed, Vidhi, an innocent girl stood in a line to buy Bhog for pooja. Others peoples were mock at her stammering. Sweets seller helped her to buy the sweets.
Vidhi's chachi scold her for being late and wasting everyone time there. She apologized to her. Meanwhile Dev rushed to meet his sister Chitra leaving everything behind. She shared her grief and confusion with him.
He consoled her and assured her that she will be remain his princess always. Priya complained that he was treating her as servant that's why beautician didn't come to do her make up yet. She said that her in law's will badmouth on her.
He assured her to arrange everything. Meanwhile Dev contacted Vidhi's chachi to book an appointment there. Vidhi talked with him and explained it to Chachi. She asked Vidhi to accompany her there. Vidhi forgot her uniform in auto and went there.
Security didn't let her in. Vidhi went inside through someone help. Amba demanded Dev to kneel down to show how much he love his sister. Vidhi came there lost her way. He helped her to bring hot water but mistakenly break the glass tray.
Dev helped Vidhi to find the direction. Mistakenly glass bowl broken from Dev's mistake. Vidhi mentioned him as uncle and asked him what will she answer to Urmila. She got panicked thinking about her reaction.
He offered money to her but she refused to get it. He gave his ring to her and demanded her to collect money from him after two days in his office returning ring to him. Amba laughed at him when did Vidhi mentioned him as uncle.
Urmila got disappointed when did customer didn't paid for her work. Vidhi informed to her that glass bowl broken. She scold her not giving heed to her explanation. Dev felt uncomfortable with Amba's presence.
Later Urmila complained to Hariprasad that she faces loss because of Vidhi. He promised her to repay that amount in two days. Later Vidhi showed the ring to his parents. Her father said to them this ring worth 40 lakhs. They decided to return it to him and get money instead of it. Later Dev shared to his mom about that ring matter.
Hariprasad asked his family members to protect the ring at any cost. They suspected someone came to steal the ring from them and got ready to attack that person. They got surprised seeing Hariprasad's brother there.
He said to them he ended up arguing with Urmila when did he supported Vidhi. She pushed him out of room in anger. He decided to sleep in their room at night. He asked them to go to bed.
They removed ring from his bed successful. Next day Abhimanyu cooked sweets for Chithra specially but his wife ruined it reasoning he might arrange everything to welcome her like the way Dev doing. Dev was busy in arranging flower path for his sister.
Meanwhile Hariprasad advised Vidhi to don't talk with anyone while traveling in bus and return the ring to him. Amba's entry made Dev uncomfortable. He praised the sweets taste not to hurt his brother's feelings.
Later Dev excused everyone and left to office. Meanwhile Vidhi reached office to return ring to Dev but Security didn't let her inside.
Security informed to Dev that one girl came to meet him. Dev checked her through CCTV footage and asked security to allow Vidhi inside. Vidhi met Dev in his cabin. Dev said his friends she was the one whom they mentioned as thief.
Vidhi said to Dev that she placed ring inside tiffin box not to loss it anywhere! She asked him whom will give ring to others like this? No one in her house slept because of this ring. It's cost a lot.
Dev asked his friends to record the video. He opened the ring box and found its empty. Meanwhile Nima worried about Vidhi and got shocked to find out ring was in her hand she forgot to keep it inside Tiffin box.
Meanwhile Dev's friends accused her as thief. Vidhi got panic hearing it Dev consoled her. Later Nima came to office Vidhi collected it from her and returned it to Dev. She left from there without taking money from him.
Nima said to Vidhi that she got new alliance. Dev punished his friends for accused Vidhi and decided to appoint her in his office.
Colleague asked Dev how could he select a girl without proper qualification? Dev said to them dedication is important not qualification. Nima said to Vidhi it was a good alliance she can change her life after this fixed.
Seema said to her she didn't completed her degree yet. Nima said to her she can study after she got married too. Colleague asked Dev what if she reject his offer? He said to them no one will reject such offer from this big company.
Vidhi agreed for the alliance. Neema asked her to give the money she said to her that forgot to take money from him. Later Sathyavath advised Abhi to concentrate on business but he refused it.
His wife Ria mocked at him. Sathya tried to explain him that Dev sacrificed his life for them but he disappointed her. Meanwhile Vidhi got ready to meet the people whom bring alliance to her.
Later Colleague contacted Vidhi and offered job to her she rejected it reasoning her dad don't like. Colleague provokes Dev against Vidhi by lying she insulted his financial status. Later Dev reached to her home
In the upcoming episode viewers will see; Dev will introduce him as Dev group of companies CEO and inform to groom family he offered job to Vidhi.
Groom family will say to him Vidhi is good for nothing fellow and don't anything. Dev will leave from there. Nima will say to Vidhi that she will get a suitable partner in future. She will add that because of Dev she escaped from that wrong alliance.
What will happen next? Will Vidhi thank Dev? When will Vidhi join in Dev's company?
Upcoming episodes will answer to our all questions stay tune with our space for more updates.