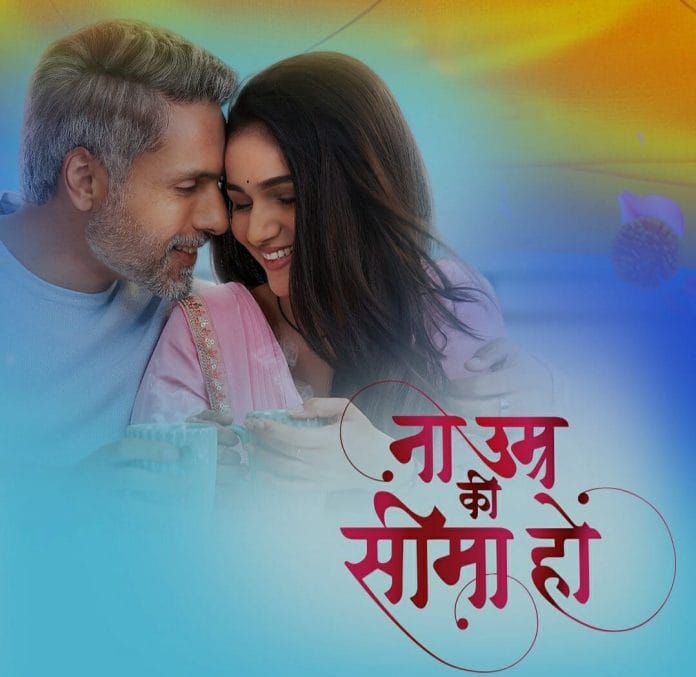 Na Umra Ki Seema Ho Spoilers, Upcoming Story, Latest Gossip , Future Story, Latest News and Upcoming Twist on tellyexpress.com
Na Umra ki Seema Ho is newly launched show of Star Bharath. This show showing Vidhi, a young woman falls in love with a middle aged tycoon Devratha! currently serial focused on Vidhi fell in love with Dev
In the previous week we have witnessed, Vidhi talked with Seema on phone. She inquired Vidhi about Dev. She informed to her that she was waiting for him in market. Urmila came there and inquired Bimla where did Vidhi went? She won't believe that she went to office reasoning it's Sunday.
Bimla lied to her that she went to market. Meanwhile, Vidhi noticed vendor disturbing Dev. She send him from there. Vidhi gifted branded shirt to him. He thought short wasn't upto his taste. He wore it for her happiness. Urmila pretended like went out to hear their conversation.
She heard that Vidhi went out with Dev. She created a scene there. She complained to Hariprasad that she will ruin their family name. Hariprasad cleared to her that he trust Dev. Dev and Hariprasad spend quality time with each other.
Fortune teller said to them big storm will come into his life but Vidhi will bring him out of it. Both of them didn't give heed to his prediction.
Dev thanked Vidhi for gave fabulous treat to him. He said to her he felt so happy to enjoyed this all after so many years. He gifted Vidhu a new college admission. She thanked him for helped her to clear her papers. She gave all credits to him.
He motivated her to pursue her dream. He advised her how to concentrate on her studies. He said to her she will get a chance to study in abroad. She shared with him that Dad planned to get her married. He said to her education important to her.
She can study after marriage too. she recorded his motivation words. Later, Bimla discussed with Hariprasad about his brother. They worked quality time with each other. Dev fell sick after ate so much street food. He asked his driver to don't share it with mom. Vidhi thanked Dev.
Vidhi recollected her moments with Dev. Later, Sathyavathi questioned Dev what happened to him? What did he eat yesterday? Amba came there with doctor to check him. Dev apologized to her for not attending housewarming function.
Sathyavathi appreciated Amba for bring doctor to check Dev. She demanded the doctor to do full body check up to Dev. Later, Vidhi hallucinated Dev near her. Employees made fun with her. Kanika asked Ananya to keep an eye on her. She was expert in day dreaming.
Meanwhile Doctor informed to Sathyavathi that he was alright he need rest. Dev teased his mom for over reacting. Vidhi missed Dev in office and visited his cabin. She immitate him there. Sangeetha thought that she was behaving strange.
Later Vidhi heard Kanika discussion with Yogesh about Dev. She felt guilty for his state. Later, Sathyavathi discussed with Amba about her marriage with Dev. She didn't react to it. Priya heard Sathyavathi discussing about with Abhimanyu and threaten them.
Hariprasad got happy seeing Vidhi's graduation photo. Sathyavathi said to Dev that she asked him to take rest but he was attending conference call. Dev said to her that she stopped him to go to office so he was working from home.
She asked him to take dinner with Amba reasoning Chithra's in laws may misunderstand them. He assured to her. Later, Bimla asked Hariprasad what was he checking in that admission form? Will he allow Vidhi to study further? He denied it reasoning she already lost two years.
Bimla asked him then why is he staring it? He shared with her that Dev trusted Vidhi that's why he gave it to her. Later, Vidhi missed Dev in office. Sangeetha found out she was behaving strange.
Dev took dinner with Amba. He disappointed when she discussed about his family members. Vidhi dreamt like she send I love you to Dev. She was confused with her feelings.
Vidhi was confused with her feelings on Dev. She thought everyone likes him that doesn't mean they were in love with him. She was respecting him a lot because he helper her a lot. She asked god to help her find out her feelings.
She convinced herself that she was respecting him. She failed to notice flower fell down. Vidhi inquired her mom what's love? When she fell in love with dad? She doubted her behaviour and asked Hariprasad to search a groom for Vidhi. He discussed about it with Kallu.
He asked him to help her study MBA. Later, Amba gave a offer to Priya to work. She accepted her offer. Meanwhile, Hariprasad helped Bimla to sweep the floor. She teased her brother in law. Vidhi supported him. Later Vidhi admired Dev. Arjun thought Vidhi as a intersting character.
Vidhi showed Arjun's place to him. He hugged her in thanking way. She pushed him away in anger and took class to him. She cleared to him that he shouldn't hug girls in India and respect their culture. Dev came there and narrated Vidhi's suggestion to them.
Employees agrees to it but Vidhi back off from it thinking she was highlighting herself to Dev. Dev asked them whom supporting her idea. Everyone agreed to it. Later, Arjun shared to his parents thar Vidhi was acting strange. His parents provoked him against Vidhi and asked him to help them finding out what's Vidhi hiding from them? He assured to help them.
Bimla shares with her friends about Vidhi's strange behaviour. She wished to find a groom for her. In home Vidhi couldn't sleep well thinking about Dev.
In the upcoming episode viewers will see; Vidhi finds error in accounts of new manufacturing unit. Arjun sees this and notifies Kanika ans Yogesh and asks them for some file. Vidhi notifies Dev about the error in account.
What will happen next? Will Vidhi find out the truth? When will Dev fall in love with Vidhi?
Upcoming episode will answer to our all questions stay tune with our space for more update.