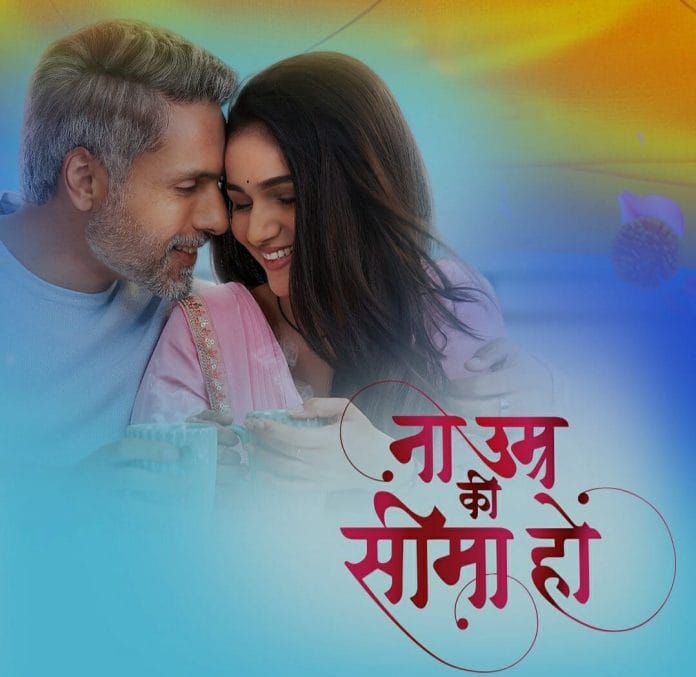 Na Umra Ki Seema Ho Spoilers, Upcoming Story, Latest Gossip , Future Story, Latest News and Upcoming Twist on tellyexpress.com
Na Umra ki Seema Ho is newly launched show of Star Bharath. This show showing Vidhi, a young woman falls in love with a middle aged tycoon Devratha! currently serial focused on Vidhi joined in Raichand company!
In the previous week we have witnessed, Dev reached to Vidhi's house and ended up hearing groom family insulting Vidhi and her family members. They were judging her with Vidhi's cooking knowledge.
Dev introduced himself to them and returned money to them. He couldn't hear them humiliating Vidhi. He said to groom family they don't have rights to humiliate them in this way standing in their house.
Its wrong to judge her with her cooking knowledge. Even he can find out her son lacking many things. He said to them in mocking tone he can offer salary to Vidhi which will be double then her son salary.
Hariprasad thanked Dev for supporting his family. He rejected Dev's offer reasoning no one from their family go out for work. Later Nima consoled Vidhi and assures her she was not at all fault here.
Dev found out Amba's letter from his bed. Which shared how much she loving him and she was waiting for him 15 years. She determined to tie her hair after he entered into her life. Later Mini met Nima's family and gifted to them.
She went to fresh up. Seema said that she was gifting them but they couldn't gift her anything back. Vidhi suggested them to walk to school and save the money to gift her. Later Ria mocked her husband pointing out his interest in cooking.
His daughter showed family picture to them. Ria mocked him again after saw his sketch. Dev scold them for behaving like that in front of kid. He took her out for breakfast.
Vidhi saw Dev in resturant with kid. She wished to thank him and waved her hand at him but he ignored her. Later Vidhi lost her way but accidentally she saw her mom and ended up learning she was working secretly.
Urmila showed her anger on vegetable seller. Her husband asked her Isn't she happy after she ruined Vidhi's alliance. She said to him she would have felt happy if that Dev didn't praised Vidhi there. She added that she was disappointed with his offer.
Later they noticed neighbours were talking with Hariprasad. Priest asked him how much he will get if he sell this gold reasoning he needs money for his daughter flight ticket. She wanna join in work tomorrow.
He asked him to fix alliance for her instead of sending her out. His brother brought Raichand office offer for Vidhi. Hariprasad didn't heed to anyone and was adamant in his decision.
Later Bimla planned to change his mind. Hariprasad ended up arguing with Bimla. At night Vidhi assured to him she will never go against him and bring bad name to him. Hariprasad gave a nod to her to join in work.
Bimla asked Vidhi to get ready asap to join in her office. Hariprasad put a condition to them that Vidhi will work in that company only for one month. If that job not set to their family she wanna quit it. Bimla agreed to his condition. Bimla and Seema helped Vidhi to get ready.

Later Dev noticed one poor boy staring others eating ice cream. He brought one for that boy. Vidhi prayed to God neighbour gave sweets to her in happiness. Her relatives came there which made Hariprasad angry on them. They apologized to him and left.
Urmila got shock hearing Vidhi joined in office. Later Hariprasad took Vidhi to orphanage and learnt from manager someone else also helping the kids like Vidhi.
Later Hariprasad took Vidhi to office but security didn't let them inside. She entered in with Indra's help. Later office staffs made fun of father and daughter. Kanika noticed them and lashes out at Vidhi. Dev came there and scold Kanika for treating them bad in his office.
Dev scold Kanika for treated Vidhi wrong. Hariprasad said to him his daughter won't work here. Dev signal Kanika to apologise. She apologized to them without option. Dev took Hariprasad to his cabin.
Dev shared to them that he can understand whatever happened in office may disappointed them. They shouldn't have behaved like that here. He said to them he will make sure about his daughter satey and everyone here respect her.
Hariprasad said to him she doesn't have experience to work here so forgive her if she do any mistakes. She will learn everything asap. Hariprasad gave sweets to all. Kanika felt Vidhi will become a problem to them in future.
Later Dev asked her to take account section seeing her maths knowledge. Kanika asked Colleague to apply glue in Vidhi's chair. She sat on it without noticing. Dev helped her to get up but her dress torn mistakenly. Indra motivated her.
Vidhi got shocked seeing the salary of her. She refused to work in Raichand company. Kanika said to her they are paying high amount to a beginner like her. She doesn't have any experience to work in this company though she was not ready to accept this amount.
She demanded Vidhi to inform Dev about it. Later Vidhi said this to Dev he asked her why did she saying like this? She said to him she was beginner and didn't completed her degree yet so this amount high for her.
Dev said to her it's basic salary they were providing to her. She denied it reasoning she don't wanna earn more then her dad. Dev asked Kanika to appoint her as heed of honest fund she will decide what to do with that amount.
Later Vidhi git confused when Colleague narrated the accounts. She shared to Dev she don't know to use computer. He asked her to learn it. Later Colleague mafe fun of Vidhi. She copied documents in color papers. Dev asked the staffs to help her learning. Kanika lashed out at Vidhi she demanded her to wear western outfit in office.
In the upcoming episode viewers will see; Urmila will ring the bell in temple to get everyone attention. Hariprasad and Bimla will come there hearing that noise. She will complaint to Urmila she is disturbing god's sleeping time.
What will happen next? Will Vidhi thank Dev? When will Vidhi learn work in Raichand company? Will Kanika plot against Vidhi?
Upcoming episodes will answer to our all questions stay tune with our space for more updates.