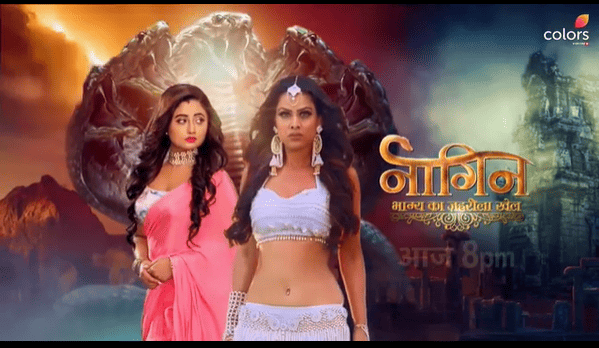 Naagin 4 2nd August 2020 Written Update on TellyExpress.com
The episode starts with Shalakha telling Vrushali that their plan of taking Dev's soul and naagmani failed as Swara, before dying, put the "Om" symbol in his pocket. Vrushali gets hyper as she is very scared of Bela doing something to them since it isn't difficult for her to find out that they did all this, even killed her mother, for the naagmani. She asks Shalakha to do something.
On the other hand, Brinda grabs a diya and puts a hand on it saying that Dev kept her in darkness but now everything is clear: Dev didn't kill her trust only, but also her mother. She promises to take revenge from Dev and not to lose since she is a Naagin.
Meanwhile Shalakha uses Mundika's powers and orders a bubble to go to Brinda and remove her memories about Swara's murder and also make her think only good about them. The bubble goes to Brinda and hits her. Her eyes widens.
After a while, Vrushali is arranging the mandap decoration when Shalakha comes. Vrushali asks her if her plan worked. Brinda comes and Vrushali is scared that she remembers everything. Brinda walks to them but apparently doesn't remember anything. Vrushali is relieved. Brinda asks her to accept her and Dev's relation. Vrushali assures her that she will make Shalakha sign the divorce papers.
When Brinda walsk away, Vrushali and Shalakha happily sigh a breath of relief since she doesn't remember anything but they are unaware that Brinda is just acting. Brinda looks at them from far and says that she is a Naagin and she will take revenge. She remembers meeting Baba a while ago and he encouraged her to take revenge and not fall in love with Dev. Brinda also gave Baba some pages of a book she found with Swara. Baba says that these are parts of the Laal Tekdi Mandir. Brinda asks what secret it is since she has heard about it many times. Baba says that he doesn't know much about it too but it is so dangerous that whoever will get hand on it, can become the most powerful one since once upon a time there has been a catastrophe there. He says that she should focus on her revenge first. Brinda agrees.
In present, Milly takes Dev in her room and suggests him to surprise Brinda with something romantic proposing her and even taking wedding vows again. She convinces Dev who likes the idea and pushes him out.
Dev comes back to his room with a box. He notices Brinda in the washroom trying to grab her clothes hanged to the knob of the door of the washroom. She is just in her bathrobe. Dev grabs the clothes and teases her. She asks her to give her clothes back but he keeps teasing her and mistakenly holds the belt of her bathrobe opening it. Brinda winces covering herself. Dev ties her belt again and says that she won't wear that saree but the outfit he has chosen for her. Dev leaves. Brinda looks shocked at the bridal dress Dev has placed on bed. She says that she won't let herself get weak and take her revenge today.
Later, Hardik's bride comes with her family and Parekhs welcome her. Shalakha walks to Dev and asks if she is looking pretty. Dev stares at Brinda who is walking downstairs holding a jug and says that Brinda looks always pretty. Vrushali takes Shalakha aside. Dev looks at Brinda lovingly while she thinks that he will be the one to die first. She sees her father coming in the house.
Dev walks to Brinda and forwards a hand towards him. She gives the jug to him and goes towards her father Mahesh. She whispers to Mahesh that she is sorry that she had to come in this house unwillingly. Akash and Dev welcome Mahesh and asks about Swara. Brinda takes Mahesh aside and says that she will avenge Swara so he doesn't have to worry.
Dev stares at Brinda who is laughing with some women. Shalakha is very jealous and wonders what is happening. Vrushali says that they shall get to know the secret of Laal Tekdi Mandir and then they will reign but for now she should calm down and control her anger.
Hardik's wedding rituals are going on. Dev looks around for Brinda. He asks his sisters about Brinda and Milly indicates who is standing in a corner. Dev walks towards her. Milly and Geetanjali wonder what they can do for Brinda and Dev. The latter go to Brinda and tells her that she cannot escape from his love which is like a cage and also that he wants to complete the vows they had taken. Milly and Geetanjali plan to decorate Brinda and Dev's room like it is their suhaagraat. Dev asks Brinda to come to their room in ten minutes. Brinda accepts.
After ten minutes, Brinda reach the room and sees that it is all decorated romantically. Dev says that he wants to start a new beginning in their life. Brinda is in rage and asks if he is serious after what all he did. Dev kneels down and proposes Brinda with a ring but she turns around and says that she knows he loves her so much that he snatched everyone close to him. Dev is confused and asks what happened to her. Brinda shout at him telling him about Swara's murder and blames him for it. Dev asks him if she got crazy. Brinda says that she was crazy that she fell for him knowing that his whole family is made of murderers and they are those who killed her family.
Downstairs, Hardik's wedding rituals are going on. The bride is taken away for another ritual. Shalakha is getting impatient because Brinda and Dev are alone in the room and wants to go to check but Vrushali stops her.
On the other hand Dev shouts at Brinda asking what nonsense she is saying. Brinda cries revealing him how his family killed her real father and his family and shouts blaming him for killing Manyeta and Swara too. She scatters things placed in room and swears to take revenge. She throws the flowers on Dev saying that he will need them in his family's funeral. Dev says that he doesn't believe her. Brinda says that she knows he and his family just want money and naagmani. Dev asks what naagmani is. Brinda transforms into snake and shocks Dev who gets stunned seeing her. Brinda transforms half into snake and half human being saying that she is Naagin. She hits Dev blaming him for lying and killing her mother. Dev is enraged too and shouts that he never lied to her but she is the one who hid her biggest truth from him. Dev throws a vase on Brinda who avoids it. Dev blames Brinda for lying about his family too and tries to hit her again but in vain. Before hitting Brinda again, he stops and says that he can't even punish her because he has loved her truly. He is about to leave but Brinda pushes him and he falls on floor hitting his head against it. Dev hits Brinda too. She falls unconscious.
The bride comes back to the mandap too. Mahesh wonders where Brinda is. Dev watches them from upstairs and wonders how to tell what happened to his family who is so happy. He goes to the room and grabs a vase before it can fall on the unconscious Brinda. He wonders why he is doing this instead of killing her. He bends down near her and notices that she is wearing the locket she is wearing. It is the one he had gifted her. "Mein Tumhaara" plays. Dev emotionally recalls their moments but leaves her hand remembering that she is a Naagin and asks himself to stop it. He says that this girl has never loved him so he needs to stop loving and caring for Brinda who just cared for her revenge. Dev goes downstairs deciding to tell about Brinda to the family.
Dev comes downstairs and sees Hardik taking vows with his bride. He is about to go to tell everyone the truth so that he can alert them from Brinda's danger but stops seeing Ketaki and Rasik's happiness. He remembers her wedding with Brinda. He clenches his fist and thinks that the wedding can happen later but it is necessary to save his family from Brinda first.
Episode ends
Precap: Brinda kills the Parekh family and says that she will reach the Laal Tekdi Mandir through her revenge. Shesha, Bela, Brinda and a new Naagin (played by Hina khan) do tandav in the temple.