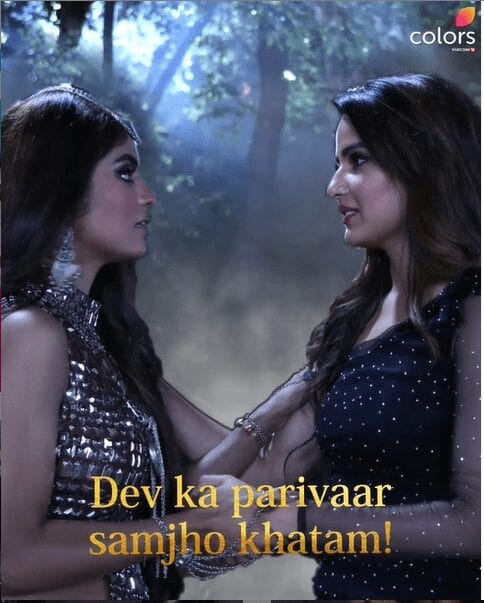 Colors famous supernatural series Naagin is witnessing its fourth season and like all the previous series; show is topping the TRP chart.
So far in the show it is seen when Nayantara don't turn into Nayantara, Manyata decides to hunt for her real daughter. Her hunt gets completed when instead of Nayantara; Brinda turned into Naagin. The duos shared the Naagin series signature dance. But as soon the dance got over Brinda stands confused thinking what happened to her. Manyata showers the love to her and tells to Brinda that she is her daughter.
Now in the upcoming episode we will see, Brinda will refuse to believe Manyata and will says to her that she is against Dev's family thus trying to manipulate her against the family. Meanwhile, Dev's mother decides to make Dev marry Nayantara after she learned that Manyata is alive.
Here, when Rajat will accuse to Brinda for spending the night with Dev, Dev will over hear his talk. He will go to Brinda and will say that Rajat is not fit for her. He will ask Brinda not to marry him. Brinda will than reply to Dev that the news was portrayed wrongly thus Rajat is reacting. The duos will argue with each other. What more will happen in the show will be interesting to watch.
Do Brinda will refuse to marry Rajt? Do Nayantara will get succeed in marrying Dev to avenge Parikh family? Time will only tell. Don't miss watching Naagin 4 Sat-Sun on colors TV.
Show will witness the entry of Anita Hassandani, how much excited you all is for her entry in the show, tell us in the comment section below.
Stay tuned with us for more news, spoilers and latest updates.