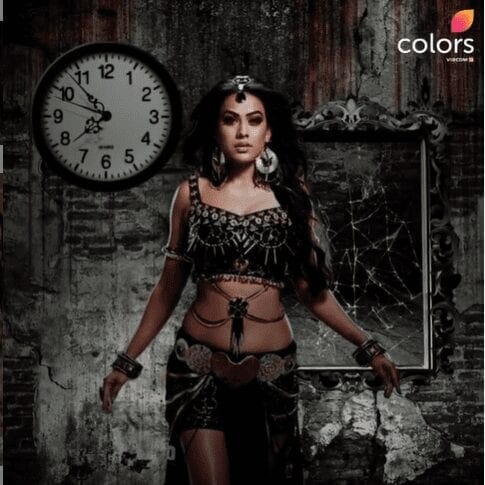 The episode starts with Nayantara seeing Brinda transforming into Naagin after saving Dev who was about to drown and thinking that she has to tell about this to her mother.
Nayantara reaches the temple where Manyeta is questioning the Bholenath idol about her daughter's wherebout. Nayantara is shocked to hear her and interrupts Manyeta's pooja. Nayantara hugs Manyeta and apologizes for ruining her pooja. Manyeta asks her why she came there. Nayantara tells her that she saw a naag. Manyeta asks her where. Nayantara says that she saw it in the same place where she went with Dev. Manyeta asks her if she saw the face of the naag.
Nayantara recalls seeing Brinda transforming into Naagin and then hearing Manyeta asking the Bholenath idol who is her daughter. She lies to Manyeta that she didn't see the naag. Manyeta scolds her for not following the naag despite knowing how to hypnotize snakes. She scolds her for making continuous mistakes. Manyeta is about to leave and Nayantara stops her placing a hand on her shoulder. She says that she is still her daughter so she can forgive her. Manyeta removes her hand from her shoulder and leaves. Nayantara is hurt. She recalls how Manyeta used to prioritize her before anything before. Nayantara looks at Bholenath idol and swears that she will kill Brinda.
Rajat comes to the car where Brinda is sitting. He says that he has headache and thinks he drank a lot after seeing expensive alcohol. Brinda asks her how he got headache and he lies that he was tensed for her whole the night. Dev comes and tells him that Brinda had fainted and then gives him his alcohol bill which he has already paid. Rajat apologizes but Dev says that he just doesn't want to say anything in front of Brinda. Rajat leaves. Brinda asks Dev where is Nayantara. He replies he will call her and ask and sit in the car. Brinda wonders what happened with her last night and has some blur flashes.
Nayantara plays the been and hypnotize a naag that comes in front of her. She makes him go inside a fire and kills it. Nayantara says that the mantra works so she can use it on Brinda too.
On the other hand Dev scolds Rajat for not asking Nayantara where she was going when he saw her. Rajat says that she will find her but Dev taunts her. Brinda asks her not to talk with Rajat like this.
Later Brinda is in her room and has some blur flashes of last night. Rajat comes and gives him medicines. Brinda apologizes to him for the way Dev talked to her and says she will talk to Dev about it. Rajat reminds her about the deal with Vrushali that is uniting Nayantara and Dev. He asks her what happened with her last night. Brinda recalls the last moments with Dev she could remember. She says that she is trying to get Nayantara and Dev together but Rajat says that her tentative has been useless.
Vrushali talks with Dev about Nayantara but he says that he doesn't want to marry her as he doesn't love her, Nayantara comes and hears him. Dev looks at her.
Swara gives milk to Brinda who asks her about her father. Swara tells her that he is at mandir and Brinda is about to go there too when Rajat comes and takes her away telling Swara that there is a good news coming but they just did a little mistake. Swara wonders what he was talking about.
Dev apologizes to Nayantara. She says that she thought there is something between them and asks him if he dislikes her. Dev says he doesn't dislike her at all. Nayanta asks her not to say anything and is about to leave but Dev explains himself saying that when he was talking with Vrushali he just meant that he can't fall in love so easily like others and wants to commit with just one girl. He apologizes for leaving her last day and says that he had fallen in water and Brinda had fainted too. Nayantara thinks that she has to do something about Brinda. She asks Dev to bring some coffee for her and when he leaves she sends a message to Brinda from Dev's phone asking to meet in jungle.
Rajat convinces Brinda to go to talk with Vrushali. She is hesitant but agrees and goes to talk with her.
Dev comes in his room and is surprised to see Baa there instead of Nayantara. She asks him if he was waiting for someone else. He replies that Nayantara was there. Dev sits with Baa and asks her about how can love happen and how they understand that love has happened. Baa says that it is not possible to describe when love happens.
Brinda is looking for Vrushali and rehearsing how to talk with her about Dev and Nayantara when she bumps into Sparsh, Hardik and Rohan.
Dev tells Baa how he feels when he is with Brinda without taking her name but she understands that he is talking about Brinda and asks him to go and tell her about his feelings, the worst that can happen is Brinda refusing his proposal. Dev leaves.
Rohan, Sparsh and Hardik misbehave with Brinda who slaps Hardik. He gets furious and asks her how she dared slapping him. Just then Dev comes and his cousins made an excuse and then left. Brinda leaves too.
Manyeta goes to the shore of the river where she had fallen 25 years ago and wonders who could have exchanged her baby. She thinks that Parikh family cannot have done it and wonders who is her other enemy. Just then one of the villagers come and recognizes her. The lady asks Manyeta about her daughter and she replies that she doesn't know where she is. The lady tells Manyeta that she has a rudraksh which she found near the place where they had found her with the baby.
Brinda comes back home wonders what is happening with her and thinks she just wants to talk with her father and not be anyone's match maker. She says that she is just confused how to tell Rajat that she doesn't want to unite Nayantara and Dev. Just then Swara comes and asks her if she and Rajat are really going to give her a good news as she misunderstood Rajat's words thinking that Brinda is pregnant. Brinda obviously denies it and asks her not to think anything like this. Swara understands and leaves.
Rohan, Harsh and Sparsh mocks Hardik for the slap Brinda gave him. They decide to teach Brinda a lesson.
Vrushali comes in Brinda's house angrily and asks her what she did last night. Brinda apologizes because she fell ill last night. Vrushali scolds Brinda for not doing anything and asks her if she is able to complete the work she has given her or not. She says that she did so many favors on her family and asked her one thing only. She adds that Dev is continuously saying that he has no interest in Nayantara and asks her what happened last night. Rajat comes and asks Vrushali to talk with him. He asks Brinda to leave. Brinda goes out. Rohan and others look at her. Vrushali doesn't even listen to him to Rajat who promises her that they will surely unite Nayantara and Dev. She leaves and Rajat follows her outside but she is gone. Rohan and Sparsh go to him and ask him if they can help. Rajat says that Vrushali will get angry if she gets to know that he took their help. They try convincing him.
Dev is wondering if he should talk with Brinda about his feelings.
Brinda wonders with whom she should talk about her problems and just then he receives a message from him asking her to meet him.
Nayantara is in the jungle waiting for Brinda to come so she can kill her. She swears that she won't compromise with her mother's love and even though she isn't a Naagin she is the only daughter of Manyeta. She says that she will kill Brinda and then take her mother's revenge through Dev after becoming the daughter in law of Parikh house.
Brinda comes in the jungle and wonders where Dev is when suddenly she hears the sound of a been and starts feeling strange. It's Nayantara who is playing the been and trying to hypnotize her. Nayantara thinks that Brinda has to transform into a Naagin one last time and then she will kill her. Brinda's transformation starts.(Episode ends)
Precap: Brinda becomes a naagin. Swara tells her husband that Brinda is not feeling well and she has become pale since she came back from Baa's birthday. Nayantara manages to hypnotize Brinda who has become a naagin and is going towards the fire in which Nayantara wants to burn her. Dev is seen on his bike looking around for Brinda.