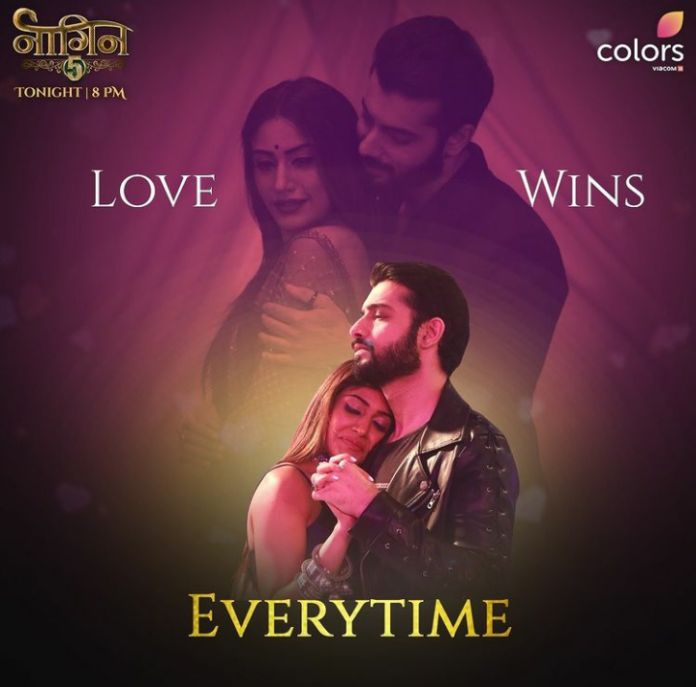 Naagin 5 1st February 2021 Written Update on TellyExpress.com
Episode begins with Bani tries to find Veer. Jay follows her and asks what is she doing here. She says she has to find Veer and even though she is Adi naagin she could not identify the person who came as Rani. He says he knows one Baba and he can help them to find Veer. She hesitates and he understood that and says he knows that she is not trusting him but he is here to help her only.
Veer regains his consciousness and recalls all the incidents which happened recently and also Rani's betrayal and decides to find the truth. Jay was taking Bani to some place but she stops hearing her child's crying voice. She asks did he heard something. He replies saying he didn't hear anything. She tries to go in different way and her child starts laughing so she tells him that they has to go in different way and reaches some place. She thanks Taapish for coming there.
Jay says they are searching Veer in wrong place. Bani says she knows what she is doing and tells him to help her like Taapish if he is really here to help her then. Veer tries to escape from Jay's trap. Bani, Jay and Taapish enters the house where Jay trapped Veer. She hears some noise and informs them about it. Jay wonders how she is able to hear that noise when no one can hear that. Veer comes out escaping from Jay's trap with Bani's help. Bani gets relived seeing Veer and tries to hug him but he pushes her and Taapish holds her and scolds Veer for pushing Bani. Veer says Bani looks naive but in real she is such a dangerous person.
She tries to defend herself but he stops her saying she can deceive Taapish but not him because he knows her truth and accuses her saying she kidnapped him. He was about to leave from there and Bani tells Taapish to go with Veer saying they can't leave him alone. Veer says he should hate Bani but don't know why he is keep wanting to get stay near her and hears his child's voice and leaves from there.
Bani cries and says she is really not understanding how to explain everything to Veer. Jay says Veer won't understand her. She says he is right and seems like this is the end of her and Veer's relationship. He hugs her saying he is with her and takes her to some house and tells her to take rest. She locks the room from inside and says she will protect Veer no matter what.
Veer tells Taapish and Meera that he wants to stay alone and hears his child's voice. He tries to divert his mind by working but fails. He reveals that he can hear child's voice and says it's happening with him because of Bani. He throws them out of the room and wonders why he is hearing child's crying voice.Meera asks Taapish that what happened to Veer. Ponky tells Daksh that they should inform Balwant about Jay's plan but Daksh refuses him.
Next day, Bani says Veer doesn't remember her but she knows the truth so she has to go to save Veer. Jay says her enemy is more powerful than she assumes so she can't do anything and tells about the magic tree by mistake without realizing what he is saying. She wonders how he knows about magical tree and realises that when she came out magic wall was broken and understood who is her enemy. She tells him that she wants to go out for fresh air.
Veer tells Balwant that he is hearing child's voice again and leaves the house. Bani thinks she has to escape from this Jay to reach Veer. He asks her to hold his hand and he will take her from this place. She tells him to bring spray for her sprain and escapes from him. He found her and asks why she is running away from him when he is just trying to help her. She says he is not helping her but just deceiving her. He laughs and says seems like she got to know the truth and says he lost the chance to get her but he can get her powers. She says he is trying to become God which is sin. They argues with each other and says he didn't lie in Maarkat's matter.
Jay reveals that he really killed Maarkat to achieve his dream. Bani says he is keep betraying her and attacks him. He reveals that he has invoked Maarkat's powers into himself by killing her which shocks Bani. Veer was driving his car and Bani comes in front of his car. He scolds her and asks what she wants from him. He says he is becoming mad and tells her to get lost. Then he realises that he hallucinated Bani. Bani attacks Jay again saying she is not afraid of him. He attacks her and she falls down. Veer plays music player to get rid of the child's voice.
Episode ends.
Click to read: