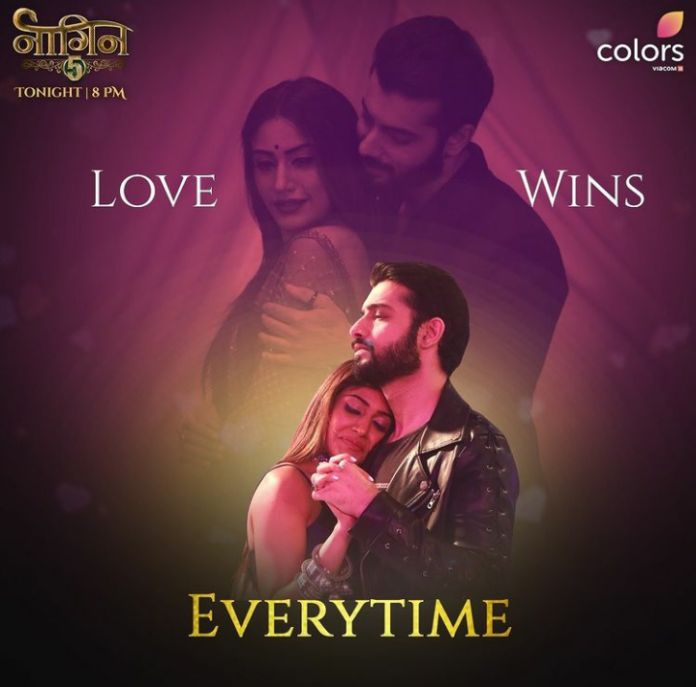 Naagin 5 6th February 2021 Written Update on TellyExpress.com
Episode begins with Bani attacks Jay. Jay pleads her to give another chance to him. She says she already made big mistake by giving another chance to him so she won't repeat the same mistake again. He says she can't kill him and pours some liquid on her and laughs at her. He says he almost forgot about this magical liquid. She freezes completely.
Seeing Veer's car, Jay hides from him. Veer sees Bani and says he is hallucinating her because she can't be here. Bani falls down and lays on the floor. Jay tells her that he is going to win today and tells her to keep staring the sky. He takes her from there and lays her on the bed.
Taapish gets worried about Veer. Balwant says Veer wanted to stay alone so let him be. Meera says the sound Veer heard has some connection with Bani definitely. Shukla tells Balwant that everything going to destroy and goes to prepare something for puja. He leaves from there and he turns into Jay and smirks saying everything happening according to his plan.
Bani thinks now who will help her. Shukla tells everyone to sit and starts the puja. Meera asks what is he doing when he tied some black rope around them. He tells her to stay silent and says he is doing everything for their well being only. He thinks he is going to tie last round and they won't be able to help Veer and Bani. Balwant tells Meera to do what Shukla asks them to do. Meera realises that it was Jay who is in Shukla's form and throws her bangle outside Jay's trap and stays silent. Jay believes he trapped everyone and leaves from there. Meera tries to come out of Jay's trap.
Veer reaches Bani following his child's voice. He asks why she is laying like this and asks her magic backfired on her or what. Bani asks him to help her in mind. He says he just wants her to become like earlier and kisses on her forehead and cries. His tear falls on her face and he comes out of the house. Bani becomes fine and comes out to stop Veer. Jay asks how she is fine now. She says he can't do anything. He says now she doesn't have any power to fight against him and says he killed Veer. She shocks hearing him.
Meera unties the rope and everyone regains their consciousness. She tells them about Jay and says they has to find Veer and Bani now.Jay and Bani argues with each other and talks about their past birth. Bani attacks Jay and leaves from there. Veer was about fall from cliff and wonders why he is not able to fly.
Before he falls Bani saves him. She says she is not any stalker like he thinks. He takes her somewhere. She realises that he remember her now and hugs him and confesses her love. He says he hurted her so much and apologize to her. She says that's not matter now. He gives saree to her and tells her to change it. She asks how he got his memory because Angel said that's not possible. He says her love made it impossible thing to possible.
Later Jay tells Veer, Bani that he won't die because he is Maarkat now but they are going to die. Bani, Veer runs from there to save their life. Jay mocks them and says they can't run from their fate. Bani says now they can't do anything and reveals her pregnancy to him. Veer hears his child's voice again and hugs Bani. He says now he has to save her no matter what. She says nothing will happen to their child. He asks how she knows that. She says Angel told her about their child.
Veer's family and Meera comes there. Bani and Veer tells their family to go back. Balwant could not able to turn into eagle and tells Taapish to do something. Meera tries to go to Bani's side but Taapish holds her. Bani and Veer gets ready to face their death. They discusses about their child's name and hugs each other. Veer and Bani dies and their soul sees their child. Jay sees Bani's child and says now he will get all the powers. He tried to attack the child but he dies falling from cliff. Angel sees Bani's child and says she is not the normal child because her parents are Adi naagin and eagle and it's the beginning of her journey.
The End.
Click to read: