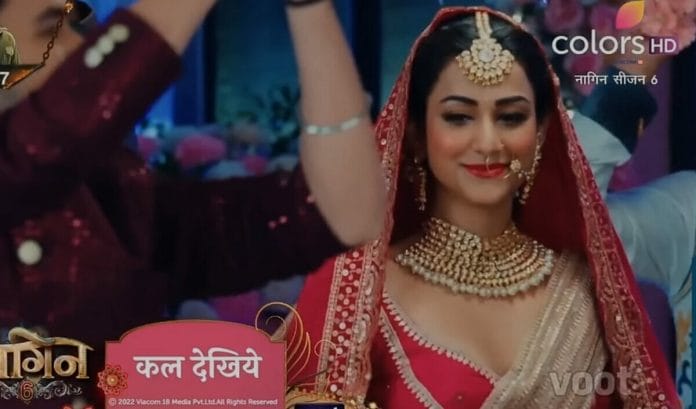 Naagin 6 Spoilers, Upcoming Story, Latest Gossip , Future Story, Latest News and Upcoming Twist on tellyexpress.com

Color TV popular show Naagin 6 is witnessing an interesting track where Anmol black ails Rudra.
As reported earlier Rudra dances with Anmol but he imagines Prathna in her.
He gets disappointed seeing Anmol and leaves. The chandelier is about fall on Anmol. Prathna risks her life to save Anmol. Pratha takes Prathna to the room and does her first aid.
Prathna says if anything had happened to her, then who is there to cry? Pratha gets emotional and reveals to Prathna that she is her and Rishsbh's daughter. Rudra realises his love for Prathna, he meets Anmol and tells her that he loves someone else and asks her to call off the marriage.
Anmol threatens to shoot herself with a gun if he denies marrying her. Rudra agrees to marry her and leaves the room. Prathna thinks she has to kill Rudra in his Bhaarat.

Rishabh takes Rudra with him to talk to him about the important information. Prathna sees them and decides to kill both of them at one time. Vanya takes Prathna to the dance floor. In the study room, Rishabh tells Rudra that Shesh Naagin is still there and the terrorist wants to loot the temple using Shesh Naagin as only she can open the door.
He tells Rudra that terrorist Zain is back. Rudra says someone near them is passing information to Terrorists. On another side, Rudra's father meets Zain and they discuss how he is stealing information from Rudra's laptop without his knowledge.
Ranchit says my son knows that 5 people are ruining the nation but he doesn't know that I'm one of them. They smile. Ranchit leaves from there and enters the ceremony and he learns Rishabh and Rudra are in the study room. He goes to the study room and brings out them.
Rishabh and Rudra decide to not inform Ranchit about their mission. Pratha enters the room and notices the sketch. She decides to find who are other 3 people before she kills Rishabh and Rudra. She recalls her dad's words that everything is related to the Vasuki temple.

At the Haldi function, Tara mixes something in Haldi. Prathna and everyone apply haldi to the bride and groom. Friends ask Rudra and Anmol to apply haldi to each other. Rudra takes Haldi, he notices Prathna is about to fall down then he rushes to help her and Haldi touches her face.
Friends tease them but Anmol says Rudra is her husband at the end of the day. Urvashi and Tara discuss why Haldi is not turning red. Pratha comes there and tells them that she made them mix Chandan and warns them to stay away from her family.

In the upcoming episode, viewers are going to witness Anmol will feel worried seeing her burnt lehenga. Urvashi will tell her Prathna keeps it in the room. Later Anmol will enter the mandap. Rudra thinks about how to marry Anmol when he loves Prathna.
Anmol's friend will hear him and tell everyone that Rudra doesn't want to marry Anmol as he loves Prathna. Anmol will jump from the building. Pratha will learn that Prathna is shesh Naagin and confronts her about her motive.
Can Pratha learn Prathna's revenge? Who is behind the professor's murder?
All these questions will be answered in the upcoming episodes.
To know what will happen next in your favorite show, keep checking this space for new and exclusive updates of Naagin 6.