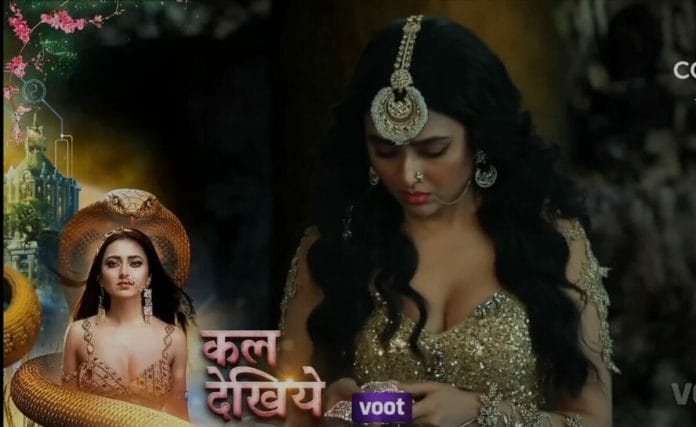 Naagin 6 Spoilers, Upcoming Story, Latest Gossip , Future Story, Latest News and Upcoming Twist on tellyexpress.com
Color TV popular show Naagin 6 is witnessing an interesting track where Pratha and Prathna meet Kaaliya Naag.

As reported earlier, Takshak asks Pratha and Prathna to meet Kaaliya Naag to know about the Anklets and Singika. He warns them that it's tough to bear the anger of Kaaliya Naag. Pratha and Prathna decide to go to Paatal lok to get their answers. Rudra learns his parents are dead. Anmol shows him the earring to him.
He learns that Prathna is behind his parent's death. He calls Prathna to one place and tries to kill her but Pratha freezes the time and saves Prathna then she asks Prathna to erase Anmol and Rudra's memory. After erasing memory they leave for Patal lok. Anmol tells Urvashi how she and Rudra landed in an unknown place without their knowledge.
Urvashi says Pratha and Prathna are behind us. She sees Patali and asks her to tell them an idea to escape from Naagins. Patali asks Anmol to come with her for Patal's lok. Patali takes Urvashi and Anmol to rasatal lok through the cave way.
Anmol shouts in fear. Pratha hears her voice and tells Prathna that she felt Anmol is in danger. Prathna says she is not here. She tells Pratha that this is the place she saw in her dream. Pratha says it's not a good place.
Anklets from Prathna's hand make some rock angry. They didn't notice it. Patali enters her lok and feels happy seeing Singika.

Pratha and Prathna reach Patal lok. They wake up Kaaliya Naag with their dance. Kaaliya Naag asks who has woken him up. He attacks Pratha and Prathna with fire for waking him up. Pratha says Takshak already warned us about his anger.
They appease him with Krishna's flute sound. Kaalia Naag gets calm down and he asks who are they. They show the Anklets to him and tell him that they want to know about their grandmother's anklets and Singika. Kaaliya Naag narrates the story of Puloma and Kadru(Naageswari).
In the upcoming episode, viewers are going to witness Patali will ask Rakshas goddess Singika to show the way to Anmol to get the Anklets. Kaaliya Naag notices Anklets are turning red. He asks Pratha and Prathna to leave keeping Anklets away from Singika.
Anmol meets Prathna while they are crossing Rasatallok and she backstabs Prathna for anklets. Pratha gets baffled. Takshak gets the vibe that something is going wrong.

Will Prathna be able to fulfill her responsibility? Who will save is Prathna?
All these questions will be answered in the upcoming episodes.
To know what will happen next in your favorite show, keep checking this space for new and exclusive updates of Naagin 6.