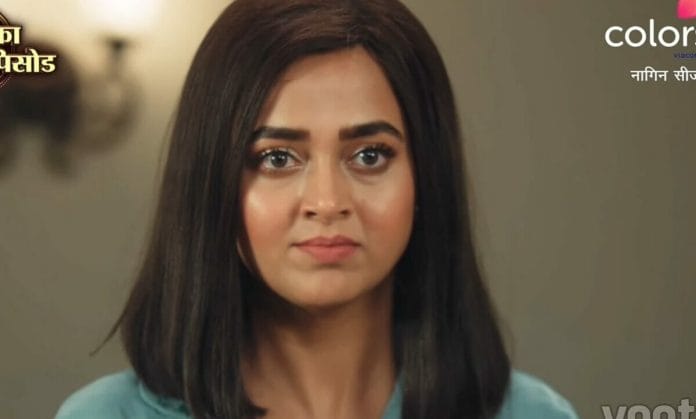 Naagin 6 Spoilers, Upcoming Story, Latest Gossip , Future Story, Latest News and Upcoming Twist on tellyexpress.com

Color TV popular show Naagin 6 is witnessing an interesting track where Pratha takes Rajesh Pratap Singh's help to take her revenge.
As reported earlier, Reem opens the locked room and notices a similar person like Rishabh. He tried to attack her but Urvashi saves her daughter on time. Reem questions who's he. Urvashi reveals he is the twin brother of Rishabh, he is jealous of Rishabh and killed Sia who loves Rishabh so Seema locked him in the room and makes the world believe that he is dead but he is alive and I passed this information to Mehek then she used him and fooled Pratha. Rishabh intends to secure his deal with Rajesh Pratap Singh so he arranges a party for his welcome.
However, Rishabh and others get startled when he shows up with his girlfriend Kiara who exactly looks like Pratha. Rajesh says Kiara is from London and he tells everyone that she is his good luck charm. Urvashi says Kiara is Pratha. Mehek says it can't be as I saw her last rites. Mehek and Urvashi talk with Rajesh about the site Zain wants. Rajesh says he will talk with Rishabh. Mehek says it's a deal from their side.
He says he will see and goes aside. Divya tells them she handles her brother's matters as she is his lawyer too and asks them to see the property. Rehan tells Urvashi that he will handle Divya to make them get the land. Urvashi agrees and warns him to stay away from her daughter. Rishabh asks Rajesh can they talk about the deal. Kiara/ Pratha says she won't leave without him. Rajesh says he wants to spend time with his fiancee and leaves telling they can talk about the deal later.
In the night Urvashi and Mehek search for Kiara's information. Pratha thanks Rajesh for his help. Rajesh says he is helping her to take her revenge for Jwala. He leaves asking them to take a rest. Pratha thanks Jwala and tells her that she saw fear in Mehek. Mehek says seems like she is Kiara but I have to rule out my doubt. Mehek spies on Pratha from the window. Rajesh hugs Pratha and romances her. Mehek thinks she can't be Pratha as she can never Romance with others as she loves Rishabh. Mehek thinks one person can help her to find whether she is Pratha or Kiara. Rajesh changes to the female snake. She asks Pratha why she didn't take another form to take her revenge. Pratha says they have to feel the fear of seeing me and tonight I'm going to take revenge on my first enemy.
Reem accompanies Urvashi and they take food to Shakti. Shakti asks why she didn't come here to fulfill her promise. Reem asks whom he is referring. Urvashi says he is talking about Mehek. Shakti holds them for answers. Urvashi says your Seema mom died today itself. He cries for his mom and leaves them. Reem asks his Mom why she lied. Urvashi says she tells it to shift his attention. She asks him to not cry. Shakti happily says he is happy for Seema's death as she locked me in this room all these years so go and call Mehek. Urvashi says she is married to Rishabh. Shakti says he doesn't care and it's been years since I saw a beautiful lady so send her otherwise I will come out breaking everything. They leave.
In the upcoming episode, viewers going to witness Pratha will say Now Rishabh is going to see what are the consequences if he insults women and if it is that woman who used to love him more than love itself. Now that love will give punishment to you and my broken heart will not leave you Rishabh. Shakti will say Rishabh's love belongs to him and tries to force himself on Mehek. Mehek will stop him and reveals to him that Rishabh loves Pratha not her. Shakti will see Pratha from his room. Pratha will turn feeling someone is eyeing her.
Will Pratha be able to escape from Shakti? Will Pratha get successful in taking revenge on her foes?
All these questions will be answered in the upcoming episodes.
To know what will happen next in your favorite show, keep checking this space for new and exclusive updates of Naagin 6.