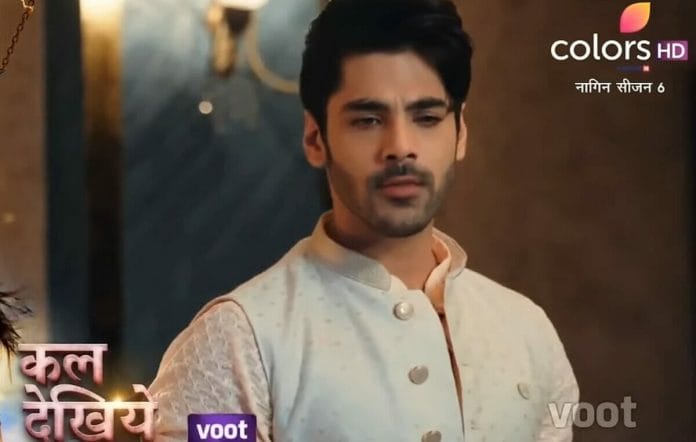 Naagin 6 Spoilers, Upcoming Story, Latest Gossip , Future Story, Latest News and Upcoming Twist on tellyexpress.com
Color TV popular show Naagin 6 is witnessing an interesting track where Pratha brings Prathna home.
As reported earlier Pratha notices burnt dead body on road. She informs to Police then she reaches Mandap.
She informs Prathna that her wedding has been called off and brings her home to live with them. Suhasini informs Tara that Pratha gets to know that Prathna is her daughter. Tara happily says the new story is about to start.

Rishabh gets a message and he leaves. At the police station, Vikram and his team discuss that they didn't get info on the burnt body. Rishabh comes there. Vikram tells Rishabh that his ideas will help them to solve the case. Inspector says Dayan or Naagin may throw him up and he tells the story he knows from his grandfather.
Rishabh thinks that if terrorists are using Naagin this time. Rishabh returns home. He feels curious about Naag, Naagins after reading the book and he decides to visit Naag Mahal for answers.

Next day Anmol and the other ladies keep fast for their loved ones. Prathana goes to the office. Rudra admires her. Tara gives coffee to Prathna. She tells her that she feels sorry for her and tells her that she will definitely get a good husband. Rudra thinks about why he wants to see Prathna all the time.
Rishabh comes to Rudra's office. He tells Rudra that he got one lead related to the case and tells him that he will tell him once he gets the full information about it. Rudra tells he will accompany him. Rishabh refuses and tells him to go home to break Anmol's fast.
Rudra worries for Rishabh's safety. He keeps a tracker in Rishabh's pocket without his knowledge. Prathna decides to follow Rishabh.

Prathna follows Rishabh's car. Rudra follows Rishabh's way. Anmol calls Rudra and asks him when he is coming to break her fast. Rudra tells her he is at work. He attends Naman's call and tells him that he is going to the temple Neelgiri mountainside.
Anmol hears it and tells her friends that she will go there to make Rudra break her fast. Pratha waits for Rishabh. Rudra's car gets a breakdown on the way. Rishabh reaches Naag Mahal but he didn't notice Pratha's photo in the mahal. He goes inside.
He is unaware that Prathna is following him in snake form. Anmol and her friends reach Naag Mahal and wait for Rudra. Rudra also reaches near the Mahal.
Pratha calls Anmol to know where she is. Anmol informs ger that she is in Naag Mahal. Anmol shouts in fear after seeing a snake. Pratha gets worried.

In the upcoming episode, viewers are going to witness Prathna will attack Rishabh. Pratha will reach Naag Mahal and notices Rishabh is getting attacked then she changes to her Naagin form and saves Rishabh. Later At home, Rishabh will tell Pratha that he believes that Naag and Naagin stay in Naag Mahal.
Pratha will ask Takshak about the Naagin attacking Rishabh. Takshak will tell her that she will know it by herself. Pratha will say she will save her husband.
Can Pratha learn Prathna's revenge? Who is behind the professor's murder?
All these questions will be answered in the upcoming episodes.
To know what will happen next in your favorite show, keep checking this space for new and exclusive updates of Naagin 6.