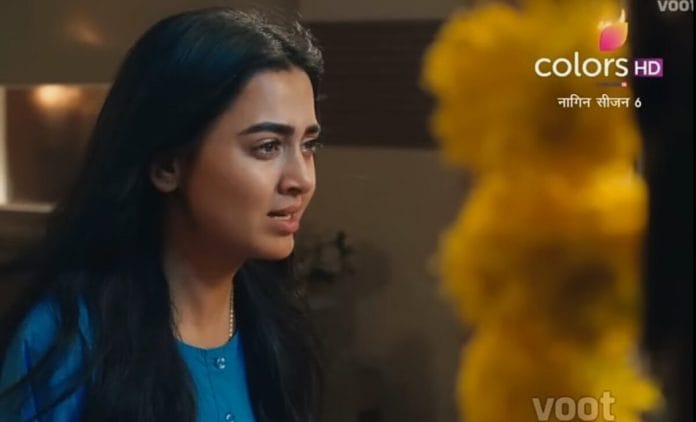 Naagin 6 Spoilers, Upcoming Story, Latest Gossip , Future Story, Latest News and Upcoming Twist on justshowbiz.net
Color TV popular show Naagin 6 is witnessing an interesting track where Rishabh marries Mehek by cheating Pratha.
As reported earlier Pratha leaves her Shesh Naagin powers for her love. Mehek, Rishabh, and others trap her in Samaira's death case then She gets arrested. At the station, Mehek reveals to Pratha that finally, she got time to take revenge on her for snatching her Shesh Naagin position. Pratha tries to make her recall what happened that day but she didn't listen. At court, Rishabh testifies against Pratha along with Mehek. The judge finds Pratha guilty and gives a death sentence to Pratha in Samaira's death. Pratha is taken to jail where she gets a tough time from Jwala. While saving the nuptial chain she falls unconscious. She is taken to the hospital where she gets to know she is pregnant. Inspector doesn't allow her to inform Rishabh.
She acts like getting pain and escapes from the police and reaches Rishabh's place to inform him about it but she gets broken witnessing Rishabh and Mehek shower romance. She returns to the police station where she teaches lesson to Jwala and her team. After a few months, the Prisoners take good care of Pratha. Pratha gets labor pain seeing the article that Rishabh is doing second marriage.
On the way to the hospital, she witnesses Rishabh Bharat. Rishabh marries Mehek. Mehek feels scared near some door. At the hospital, Pratha gives birth to a stillborn baby. The lawyer informs her that her death sentence is finalised. Pratha confronts Shiv Ji for doing this with her. The executioner makes Pratha wear the noose. Inspector signs him to hang her.

In the upcoming episode, viewers going to witness Mehek will wake up in shock when she gets Pratha in her dream as Shesh Naagin. She will destroy all photos of Pratha in the house.
Later Mehek drinks Shiv Ji prasad to become Shesh Naagin in presence of Angel and Shesh Naag but she didn't get any power. Shesh Naag tells she is not chosen as Shesh Naagin. Mehek will suspect whether Pratha is alive.
Will Pratha take her revenge? What's the reason behind Rishabh's change?
All these questions will be answered in the upcoming episodes.
To know what will happen next in your favorite show, keep checking this space for new and exclusive updates of Naagin 6.