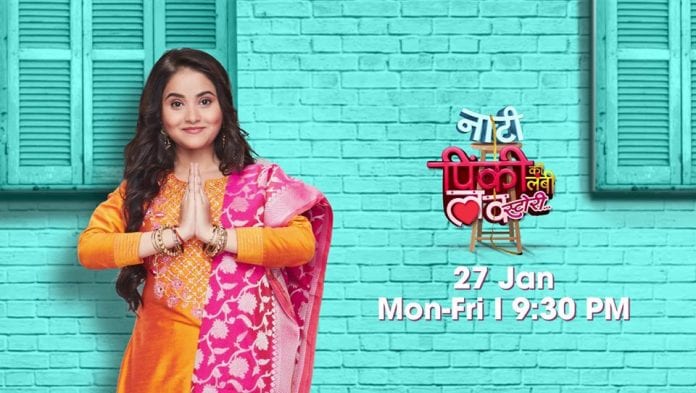 Naati Pinky Ki Lambi Love Story 10th August 2020 Written Update on TellyExpress.com
Episode starts with Pinky signs hugging her mom and Chacha. Vikas says you're following good Russ of social distancing but I will take blessings while touching your feet than Vikas reads Ram reports saying he have physiotherapy hospital and he goes to meet Ram at hospital with Lakshman. Nalini cleans Pinky than notices mangalsutra and asks Pinky about it. Pinky manages saying jaanu asked me to wear it for good and when she about to leave than Nalini reminsces Pinky saying to sit beside Arjun and asks her to tell her the truth. Pinky leaves saying your health is not good so take rest.
Pinky says so many problems and even Jaanu is not with me than she calls Meher to take her advice than Never says she will come. Meher reaches to Pinky place and asks her what happened. Pinky explains how she married Arjun to save Nandu but now mom is doubting me and I don't want to hurt her. Meher asks her to reveal the truth to Nalini. Pinky agrees and thanks Meher for help. Meher leaves saying she is having some work and asks Pinky to take care of herself.
Vikas takes Ram blessings and asks about his health. Ram says he is fine and says he wish to see him with Pinky. Vikas says I know it and I met Pinky at home. Ram says you have to save my reputation. Vikas promises to handle everything.
Nalini prays for Ram quick recovery. Pinky says mom you want to know about Mangalsutra right, Arjun married me and I'm Imarti. Nalini reminsces her moments with Imarti. Pinky says it's the only option left me to save Nandu. Nalini says what are you saying and simple help is fine but this marriage, I promised your dad to make you get married to Vikas but I never thought you will do this in your childishness. Pinky says I'm aunt to Nandu mom,vtyats why I done it so please don't inform anything to dad and help me to get Nandu back. Nalini asks why you do so much for others and she assures that she will help her. Pinky happily hugs her mom. Pinky reminsces how Pandit says it's fake Marriage. Nalini says she will help to hide her image as Imarti and asks him to promise never consider her marriage with Arjun.
Pinky agrees thinking she can't reveal her marriage is real. Pinky says their is a problem Arjun want me to get Imarti, how can we both present Infront of him. Both thinks and than they get idea.
Kalyani says you son didn't even allowed you inside house, how will you enter the house. Amma fells Infront of vehicle and Mets with accident. Kalyani gets shocked.
Pinky reaches to Arjun place, he asks where is Imarti. Pinky shows their is Imarti. Nalini holds the Imarti getup wali doll. Arjun tries to goes near her than Pinky says Imarti can't meet any male today because she is doing vrat for her beauty. Arjun asks Imarti some details about her parents. Pinky answers everything. Sunny says give time to Imarti so she can answer our questions.
Precap – Pinky gets to know Mrs Venkata Raman Mets with accident than she rushes to help her. Imarti brings Arjun mom to home than Sunny says Arjun will scold us. Imarti says she will manage him but Arjun scolds her.