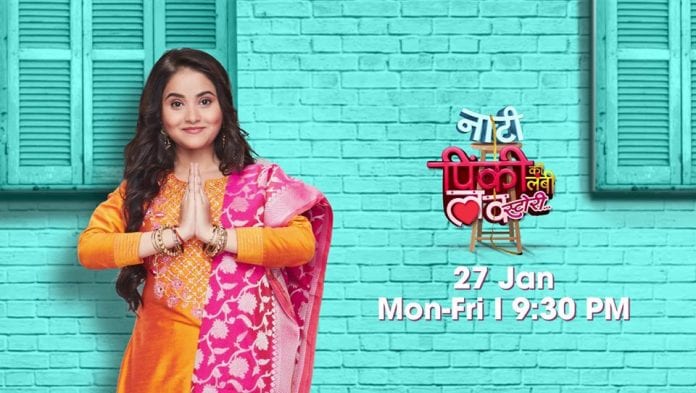 Naati Pinky Ki Lambi Love Story 11th August 2020 Written Update on TellyExpress.com
Episode starts with Sunny asks Imarti to answer them. Nalini plays voice recording message of Imarti they recorded previously. Once they get answers Imarti says she can't stay with him at night. Arjun agrees and than he disconnects Amma call. Arjun asks Imarti to take contract. Nalini forwards her hand and takes it. Arjun leaves aside than Nalini runs with Imarti doll. Arjun gives pink phone to Pinky and ask her to give it to Imarti. Pinky reminsces her dream boy qualities seeing Arjun caring nature.
Sunny asks what it you have to live with Imarti for life time. Arjun cute Amma call than he gets Seema call and goes to her office to sign the papers. Sunny gets Amma call. He answer it and gets to know Amma Mets with accident and she wants to meet her bahu.
Pinky reaches to home and praises Nalini. Nalini asks what Arjun is saying. Pinky reminsces their is Marriage is real and manages her mother saying something. Pinky hears song and says it's my favourite song Nalini says it's your cell. Pinky says it's cell given to Imarti and attends Sunny call and goes. Nalini asks her to return before his dad arrives to home.
Arjun signs the paper. Seema says they needs history and photographs of them to convince the team that this marriage is not drama to get Nandu and asks him to give his mobile so she can print the photos. Arjun drops the phone and it breaksdown. Seema asks him to submit the photos in the next day.
Imarti meets Sunny. Arjun calls Imarti, Sunny asks her to keep phone on speaker. Arjun asks her to meet her. Imarti says I can't break my vratam and confuses him. Kalyani and Amma started their act seeing the Imarti. Kalyani asks what's the need of this plan. Amma says I will reveal fake marriage of Arjun entering his home. Kalyani praises her and leaves after applying the dust. Sunny asks hos are you aunty. Amma says you're my Arjun wife right. Sunny makes Imarti to take her blessings. Amma says Arjun won't care even if I die. Imarti says Arjun is not that bad. Amma says she is bad and acts like she is in pain and says she must go back because their is noone for her. Imarti says she will take her to home. Amma smiles thinking her plan is successful.
Imarti brings Arjun mom to home than Sunny says Arjun will scold us. Imarti says she will manage him and cleans Amma wounds. Amma says I'm the one who left Arjun but I realized my mistake, Sunny give my my bag than sprays deodorant on Imarti saying use it so you won't smell odd than says I cane here for Nandu, hope you brings her back. Imarti assures she will talk with Arjun Arjun enters scolds her saying how dare you to do against my wishes. Everyone gets shocked.
Precap – Ram arranges evening party for Vikas and Pinky to understand eachother. Arjun also asks her to meet him at same time for photos. Pinky explains it to her mom saying how can she manage.