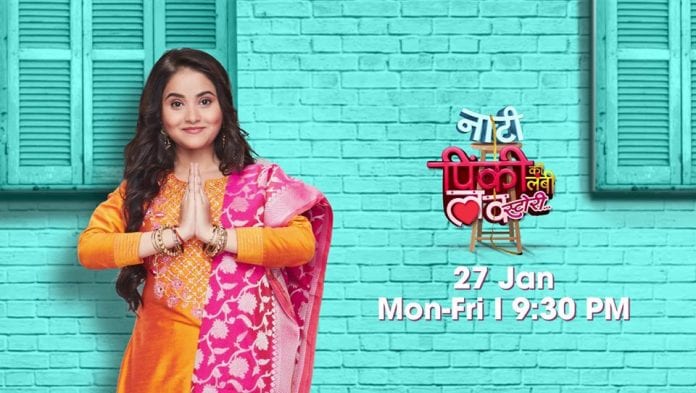 Episode begins with Pinky sees Gagan with Megha and hides under the bed. Gagan praises Megha's beauty and talks bad about Pinky. Pinky cries hearing everything. Gagan's mother calls Sarthak and informs about Nandu. Sarthak tells that to Asha. Arjun comes there and asks Sarthak about Nandu. Sarthak about to tell the truth but Asha stops him. Asha says they don't know about Nandu and Arjun too leaves from there. Chachaji tells Arjun that Nandu reached Pinky's mother in law house.
Gagan says he feels insulted to introduce Pinky as his wife but he have to because he doesn't have any other choice. Megha says no one can say he is cheater seeing his innocent face. She says in front of Pinky and Ram he can't say anything. He says Ram is dumbo and doesn't cares about anything other than his prestige. Pinky gets angry and asks him not to speak anything bad about Ram.
Gagan shocks seeing her there and asks what is she doing there. She says she will tell his truth to Ram and Ram won't leave him and tries to go from there but Gagan stops her and asks her to stay silent because her mangalsutra is her identity without that she is nothing. She bites his hand and runs from there. She cries recalling her moments with Gagan.
Gagan tells his mother that Pinky gets to know about his affair. Arjun comes there and Nandu meets him and says she came to show the trophy to Pinky. He asks her to sit in his car. Arjun asks Gagan about Pinky. Gagan says he doesn't know anything . Arjun comes to Ram's house and asks Shraddha did Pinky reached home or not?
Shraddha says Pinky is not here. Everyone comes there and Shraddha says Arjun asking about Pinky. Arjun asks where is Ram. Dadi says he is in meeting. Arjun meets Ram and says Pinky isn't in Gagan's house. Ram says Arjun lying to him and scolds him. Arjun says Gagan loves someone else and Pinky gets to know about Gagan's affair and she is missing now. Ram asks his family to not believe Arjun and calls Gagan. Gagan's mother asks Gagan to attend the call.
Gagan attends the call and says Pinky went to market with his mother and says he sends the selfie which he take with Pinky. Ram shows that selfie to Arjun and says Gagan is reason for Pinky's smile and goes to continue his meeting. Dadi and Nalini gets worried. Arjun goes from there with Nandu.
Gagan thinks what to do now. Ram comes there and asks about Pinky. Gagan says Pinky didn't reached home still. Ram asks Gagan to call his mother. Gagan too calls his mother and says Pinky in trial room. Ram asks him to search Pinky soon and says if anything bad happened with his prestige then it won't be good for him too and goes from there. Gagan's mother comes outside, Ram too comes again and sees her. Gagan says Megha booked that room and by cheating called him there so he went there because she is his boss and Pinky misunderstood everything. Ram says he understands everything but doesn't says anything to respect the relations.
Pinky thinks to go home or not and decides to not go to her home.
Episode ends.
Precap – Public throws stones on Pinky assuming her as thief. Arjun saves her from them.