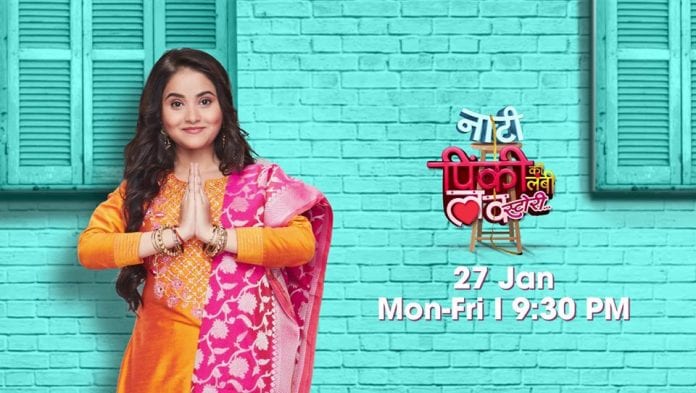 Naati Pinky Ki Lambi Love Story 17th September 2020 Written Update on TellyExpress.com
The episode starts with Pinky breaks down with Arjun's behaviour and she is about to take nameplate but Arjun throws her out and asks her to leave from his place and life. Revati feels happy. Pinky cries reminiscing Arjun hateful words for her and about to leave but she notices Antara. Arjun hurts himself. Sunny stops him.
Pinky calls Antara through the window. Antara asks what happened. Pinky asks about her mom and dad. Antara says noone at home and asks her to come inside. Pinky goes inside through the window. Antara asks what happened. Pinky says Arjun hates me and he broke me with his words.
Sunny says why you're hurting yourself, it's cannot be real you who talked bitterly with Pinky but today you broked Pinky heart. Arjun says I don't want her to broke her completely so small wounds are needed, our relation won't have a future but she is not ready to accept it.
Antara asks Pinky to say something. Pinky says until now I'm living in dreams and Arjun ji has talked so much bitter and tells that she has never heard such bitter words before and Arjun helped me before because of his sympathy towards me and he hates me so much. Antara says I can never think Arjun is this kind of person with low thoughts. Pinky days Arjun is good but I'm bad. Antara says no and asks Pinky to stay in the room and go to meet Arjun.
Arjun says I saw how Ananya used to wait for her dad love until her last breath and i used to feel guilty and I wish I never meet Pinky and fell in love with her. Sunny says you're saying Pinky in place of Ananya. Sunny days I heard it properly you said Pinky. Antara comes to him saying if you won't love Pinky than why you helped her whenever she is in problems. Arjun says it's his responsibility. Antara says she have her family for it but why you felt bad seeing her in problems.
Arjun turns his face saying it's not like that. Antara says you can lie to me but you can't hide the truth and your wound in hand is revealing how much you love Pinky so answer me whether you love Pinky or not. Arjun says yes I love her more than myself but I can't see her in problems again so Buaji promises me that you won't tell it to Pinky. Antara says I'm promising you I won't tell her but she will know it from you and I won't stop Pinky coming closer to you.
Antara reaches to house and notices room door is locked than she calls Arjun and informs him that Pinky is locked herself in room. Arjun runs to Ram house and Antara and Arjun notices Pinky tries to commit suicide fro Window and they goes in breaking door. Arjun gets broken seeing Pinky hanged herself but Pinky comes from behind saying it's just doll ,I'm here.
Arjun happily hugs her saying he felt like he loet his life than realises what's he doing and questions her where is this worst idea came to her. Pinky says I wanted to know how much you hate me but got to know what you feel for me seeing your wound on your hand and why you felt like lost your life seeing me dead? Arjun about to leave. Pinky stops him saying you can't run from me because you're kicked with me in marriage and love.
Arjun leaves. Antara praises Pinky and asks her to leave to her home. Pinky says he throws me. Antara says win your love and work on your marriage keeping your self-respect and ego aside and now you know Arjun loves you so start your mission to know it from Arjun. Pinky happily hugs her.
Nandu asks for Pinky. Arjun says she is not here asks her to have Sandwich but Nandu says it's better if I stay in Ncpcr hostel. Arjun says don't say like that. Revati about to feed her but Nandu denies. Pinky enters home with Dhol which makes Nandu happy. Pinky says to Arjun that issues are common between wife and husband, if you can lie to me than I can behave in badtameez way and I will show you how I become your wife.
Click to read: