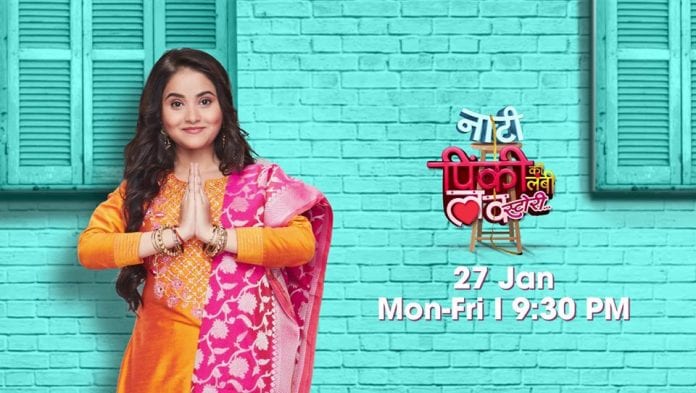 Naati Pinky Ki Lambi Love Story 24th March 2020 Written Update
Episode starts with Chachaji gives Gagan watch to Pinky saying it will act as proof to caught him. Pinky says it's not proof because Gagan regularly come to this place but we can make him reveal the truth himself by using this watch but you have to help me in this plan. Chachaji asks her what to do. Pinky reveals her plan.
Gita prays for Gagan and then she gets call from Chachaji. He talks like Gagan girlfriend and makes her irritated. Gita warns her saying don't try to call her and reveals that Gagan is leaving from this city.
Chachaji informs this matter to Pinky and she says we have to do something to stop him. Pinky gets call from Arjun. Arjun says I know you can't sit at home so tell me where are you and what are you doing. Pinky says I'm busy with mosquito complaints. Arjun says I know your sense of humour so don't try it with me and you promised me.
Pinky says her promise is fake, and ask him to allow her to find out the truth otherwise asks him to reveal the truth to inspector. Arjun tries to talk but she cuts call saying I didn't hear anything. Arjun says this pinky won't listen in this way and when he about to move, Sunny stops him..
Pinky says I have to go to airport to stop Gagan and takes his confession. Chachaji asks her how to stop him. Pinky smiles saying we can do it. Arjun tries to move from bed. Sunny stops him and than he notices message from credit card saying someone used for drive. Sunny says seems like some nurse is using your card. Arjun says it's pinky.
Gagan aunty asks Gita how will Gagan escape once Arjun is recovered. Gita says my son is intelligent to think it previously and that's why he is leaving from Delhi. Aunty says I just wish he got saved, if he caught than he will be in jail. Gita says I will talk with him and feels suspicious like someone is seeing her. Aunty leaves when she got the msg from her friend. Chachaji makes Gita unconscious.
After checking staff asks Gagan to reach the flight in 5m, when he about to leave Pinky reaches to airport and makes Drama Infront of everyone saying my husband is leaving me for burning Paratha, other passengers asks Gagan to not leave his wife for small things. Gagan listens final call from him. Pinky takes his bag and GAGAN runs with out his bags but other passengers makes Pinky to run behind him. Inside team won't allow Gagan saying time is over.
GAGAN gets frustrated. Pinky sits beside him and says even I know how to play the drama and this is just trailer and she shows video of Gita begging help from Gagan to save her, Pinky says let's decide will you risk your mom life or come with me.
Arjun acts like he is feeling pain in chest, Sunny goes to call the doctor and in this time Arjun escapes from room. GAGAN reaches to his mom place. Gita shouts to open the door and saves her from Chachaji. Gagan asks Chachaji and Pinky to leave his mom. Gita founds Chachaji is using fake pistol and tries to warn GAGAN saying these people are fooling them but he can't listen.
Pinky asks him to agree his crime. Gagan denies it but Pinky says Chachaji will make your mom have poison if you won't reveal the truth. Chachaji shows Poison, Gita gets scared. Gagan says I won't leave you if something happens to my mom. Pinky insists him to reveal the truth. Chachaji reveals that it's not poison, just thandai. Pinky asks Chachaji to make Gita have the poison. GAGAN gets shocked and says I'm the one who tried to push Arjun, what will you do to me. Pinky records it and says you will be in jail and thanks for giving me proof.
Precap – Gagan beats Chachaji, Pinky asks him to leave Chachaji. Gagan asks Pinky to destroy the evidence she have recorded against him to save her Chachaji. Pinky breaks her mobile. Gagan moves towards her saying it's time to teach you a leason. Arjun comes to Pinky rescue but Gagan beats him and Arjun lost his consciousness. Pinky gets shocked.