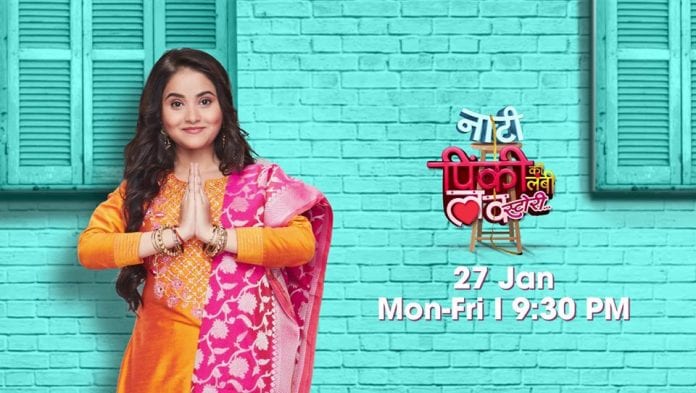 Episode begins with Arjun stops the bulldozer and Amma tells him that Pinky and Nandu inside the boutique. Arjun and his friend searches Pinky and Nandu. Sarthak asks Arjun to search fast. Arjun hits Sarthak, that time he hears Nandu's voice and goes to her. Nandu says Pinky saved her , Arjun gets worried seeing the unconscious Pinky. Arjun's friend says they have to take Pinky to hospital.
Arjun takes Pinky to hospital.Sarthak gets afraid because Ram already warned him that nothing should happen with anyone but here Pinky's life is in danger. Amma cries seeing Pinky in unconscious state and slaps Sarthak in angry. Sarthak says he doesn't know Pinky and Nandu was inside the boutique.
Asha says she will call Sarthak to know what happened there. But Ram asks her to not call. Police comes there and says Ram tried to demolish the boutique illegally. Arjun comes there and tells he only gave complaint against Ram and says how can Ram stoop this low not even caring about Pinky's life.
Ram shocks knowing Pinky and Nandu was inside the boutique. Amma brings Pinky there in wheelchair. Ram says because of his decision only Pinky and Amma coming back to his house but Amma takes Pinky to Arjun's house. Ram and Nalini shocks seeing that.Amma says she won't enter Ram house. Arjun says Pinky and Amma decided to stay in his house. Ram scolds Arjun, police says Ram have to go with them. Ram tells the issue to police commissioner and gets help from him so police goes from there without arresting Ram. Nalini cries seeing Pinky. Pinky thinks she thought Ram will support her going against Gagan but new chapter started in her life.
Amma praises Ananya's house and says she is first time coming to her house that too after her death. Pinky says Amma behaving like she is here for vacation. Arjun gives milk to Nandu. Nandu says Ram did wrong then why he is not apologizing. When Nandu asks why Pinky is not angry with Ram, Pinky says he is her father and hopes soon he will understand her.
Chachaji asks Ram to bring back Pinky and Amma. Seeing Ram's angry his family goes from there except Nalini. Nandu says she will show the house to Pinky. Ram screams in anger. Nalini asks him stay calm and apologize to him behalf of Pinky. Ram says because of Pinky he can't show his face to society. Nandu shows Ananya's room to Pinky. Pinky says she never thought she will face this situation too in her life. Ram cries, seeing that Nalini says she will talk with Pinky. Ram says Pinkyhurted him so much like Ananya did.
Nandu shows her room to Pinky and says Pinky should stay with her in her room. Arjun says Nandu's room is small so how can Pinky adjust in her room but Pinky says she will stay with Nandu only. Ram says he won't become weak and asks will Nalini help him to bring Pinky back?
Episode ends.
Precap – Amma asks Pinky to divorce Gagan. Ram says Gagan should take Pinky to his house for that Gagan says he will do that in his way and asks Ram to support him.