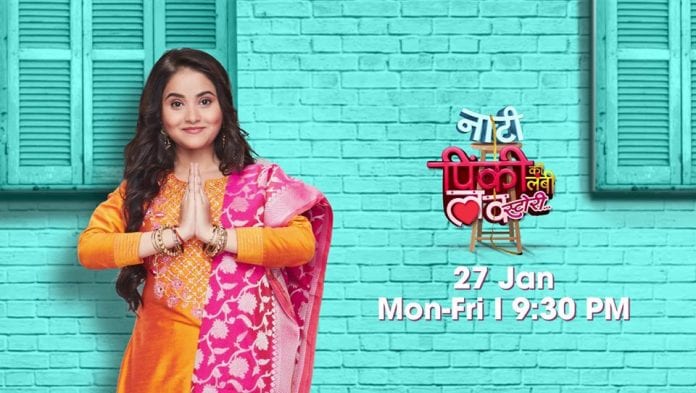 Naati Pinky Ki Lambi Love Story 27th July 2020 Written Update on TellyExpress.com
Episode starts with Sarthak informs Oinkybthat Ram is celling her to home immediately. Kalyani assures Pinky that she will take care of Arjun and Nandu and thinks to escape with Nandu once Pinky leaves. Pinky reminces Kalyani weird behaviour near cupboard and asks Nandu to come along with her. Nandu says she can't leave her dad. Pinky fakely acts that she is hurt than Nandu says she will go with her. Pinky makes Arjun sleep and goes after locking the door.
Pinky notices angry Ram and confesses Infront of everyone that she helped Arjun catering order and takes him to home when he is not feeling good and says she is ready for any punishment. Ram says glad you informed me everything without asking anything and you respect us so go to your room. Aasha says you forgived her but she bought your enemy daughter byo home. Nandu goes to Ram saying she will leave to her home tomorrow once her dad health is fine. Ram takes rose and places his hand on her head and permits her to stay. Kalyani gives Nandu passport to her husband. He asks whether Pinky caught her. Kalyani says not yet but she is very sharp, because of her our plan to elope with Nandu failed even after getting passport.
Nalini says I'm feeling happy seeing Nandu and she asks her what she wants to have. Nandu asks her to prepare Kheer. Kalyani husband says we will leave to Dubai once madam confirmed the date. Sarthak asks can I book plane ticket for Kanpur. Ram says no and ask him to book car. Nalini gives him kheer and asks where is he going. Ram says he is going to Kanpur to fix Pinky marriage otherwise she can't stay away from Arjun and his daughter.
Kalyani husband calls Mrs Venkataraman and informs her that he is taking Nandu away from Arjun life and informs her that they are travelling to Dubai in 2days.
Nandu praises things in room. Pinky says this room is belongsbto me and your mom. later Pinky sees Kalyani's Aadhaar card and notice her address. She gets suspicious on Kalyani after noticing the different address she informed them and reminsces previous incidents and thinks something is wrong.
Nalini gives Kheer to Nandu. Nalini asks Pinky do you have any feelings towards Arjun because your dad won't accept him ever. Pinky says their is nothing. Nalini asks to promise her that she never thinks to marry Arjun. Pinky asks never because my life is like croosroad, why you are talking this. Nalini says your father decided something than they gets interrupted by Nandu. Pinky makes her sleep. someone makes Nandu smell chloroform and kidnaps her. Arjun wakesup suddenly searches for Nandu, than he notices Pinky letter explaining Nandu is with her and asks him to call her once he finished the breakfast. Arjun messages thanks to her. Than he gets call from her Amma and disconnects it. Amma says I'm preparing laddo after many days abd I'm going to meet you soon.
Pinky sends Nandu to school. Nandu says bye to Pinky and Ram. Ram says her that one day you will send your kids in this way and I'm going to Kanpur to fix your marriage. Pinky says we have to leave tomorrow. Ram says yes. Pinky says she wants to work before marriage. Ram says I want you to marry than you can do anything with your partner support so kets pack your luggage. Pinky stays sad thinking how to leave Arjun in troubles.