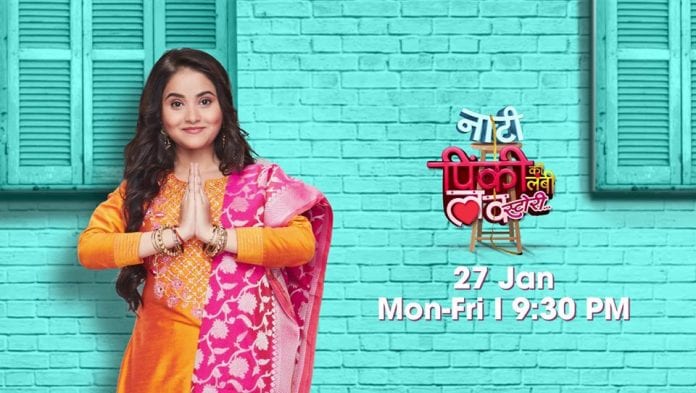 Episode begins with Arjun saves Pinky from falling. Nalini says Ram should not come now. Guests asks who is this hero. Sarthak says he is not any hero but just a villian. Arjun asks to Sarthak that why he sent back the tanker which he called for Ananya'sbarsi. Ram comes there and asks Arjun to leave from there without creating any drama. Arjun says he came to request that they won't trouble tanker guy again. Ram says Arjun will get water and gives just a glass of water. Ram says he will decide whom to give what. Ram insults Arjun. Arjun says he will get water definitely for tomorrow and goes from there. Nalini comes to Amma and consoles her. Pinky comes with buckets and teasingly says to fill these buckets with their crying. Pinky cheers them. Amma says Ram never listens her. Nalini gets sad that they can't participate in Ananya'sbarsi. Pinky thinks some idea.
In the morning, Pinky says is she doing right or not? Amma supports Pinky's decision. Asha argues with one lady for discount. Amma comes to Asha and taunts her. Pinky goes outside hiding from everyone. Sarthak says to his employees water should not go to their neighborhood. Arjun sees that and comes inside his house. He gets sad seeing Ananya's picture.
Pinky'schacha asks where Pinky is going. She says she is going to help Arjun. Arjun's father says without water it's impossible to do barsi. Ananya's daughter asks Ananya'sbarsi will happen or not. Pinky helps tanker guy and asks him to help her. He agrees to help her. Ram says Ananya did wrong by marrying guy from another caste. He says it's his prestige issue and he would never compromise with it.
By mistake Arjun gets fully wet because of Pinky. Ram's servant scolds tanker guy and stops the water. Pinky asks Arjun to bend so she can help him.He scolds her saying she too like his father and came to trouble him. Pinky gets some idea and asks Ananya's daughter and Arjun's father help.
Arjun's father calls Ram and says he kidnapped Pinky if they didn't gave water then he won't leave Pinky. He praises her plan. Arjun comes there and asks what Pinky doing here. Arjun's servant comes and informs water came. Ananya's daughter says water came because of Pinky.
Pinky comes to her house and sees Gagan and his family waiting for her. Ram says he wants to talk with Pinky and take her with him. Nalini and Amma too follows them.
Ram slaps Sarthak and scolds him. He says everyone will be punished if Pinky didn't finish her punishment. Pinky says she is ready for his punishment and she slaps herself. He says sound should be more loud. Amma stops Pinky and slaps herself. Amma says Pinky did nothing wrong by going to Arjun's house.
Mehandi lady asks Chachaji to write groom's name. He writes Arjun name. Ananya's daughter does video call to Pinky and shows the barsi to Nalini and Amma. Pinky says she fulfilled her promise.
Shraddha takes Gagan with her to Pinky. She asks him to search his name in Pinky's hand. He says his name isn't in her hand. Mehandi lady shows the spot where she written. Everyone gets shocks seeing Arjun name in her hand. Nalini says Ram should not know about this.
Episode ends.