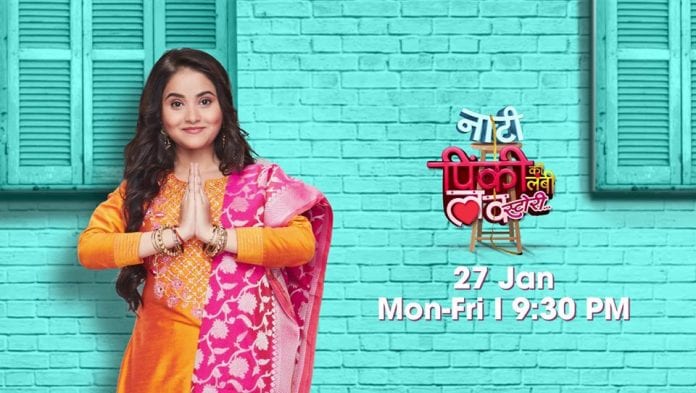 Naati Pinky Ki Lambi Love Story 2nd October 2020 Written Update on TellyExpress.com]
The episode starts with Pinky announces to the people with loudspeakers on Auto about Arjun and Parul's marriage. Arjun hears her. Pinky comes to the mandap and asks Sunny to speed up decorations. Sunny says my heart is not big like you so I can't do it. Pinky says we both are doing Arjun and you know how much he is dependent on you. Sunny agrees.
Pinky sees Antara and says it is good that you brought Safa. Antra asks why are you doing this? I can talk with Ram bro. Pinky says she doesn't want to hurt her parents and asks Antara support. Antara says her support is always with her. Ram comes to Mandap with her family. Pinky makes him sit and goes to Arjun room and calls him for haldi rasam.
Arjun in sad mode asks don't force him but Pinky says it's your decision so please come than She brings Arjun to Mandap and asks Nalini to start the Rasam giving her blessing. Everyone applies Haldi. Asha cries saying she can't do it. Lakshman asks how Asha is changed. Sarthak says she is changed. Pinky asks Asha to don't cry at a happy occasion. Asha apologies to Pinky for her mistakes and holds her cheeks and says you're bigger than us and my brother is lucky to have you.
Antara says Asha You completed Rasam applying Groom Haldi to the bride and I'm saying from the start God United them but some people can't accept reality and leaves. Arjun about to getup but Pinky stops him and applies Haldi to Arjun in tears. Antara gives water to Ram and says everyone can see the love of Arjun and Pinky but I don't know why can't you see it, please unite them with your blessings.
Ram stays silent. Arjun leaves from the venue. Pinky swipes her Haldi. Nalini tries to help her but Pinky denies it. Antara says you got your Daughter but her soul is left with Arjun. Nalini looks on.
Parul gets ready. Pinky praises her look and takes her to Mandap and gives Waist chain to her saying it's her right. Arjun looks on. Pinky pins Brooch to his turban, Arjun bends for her. Pinky asks him to get up. Arjun apologizes to her. Pinky says you never did any mistake, my fate is bad and it's not your mistake. Pandit says it's time for Gadhbandan.
Pinky ties Gadhbandan. Pandit asks who's from Bride and Groom side. Pinky says it's me from Bride. Revati enters. Pinky asks Arjun to forgive his Mom saying she forgiven her Mom. Pinky brings Revati near him. Revati says break this marriage and marry your love Pinky. Arjun says how can I marry Pinky when her parents are against our Rishta.
Nandu prays to god to break this marriage to unite Pinky with Arjun. Antara says you're praying with a pure heart so God must accept it. Pandit asks for a Varamala plate. Pinky gives him and while moving Her chunri struck in the fire. Arjun bends down to set off the fire and when he stands up Varamala and Sindoor fell on Pinky. Everyone looks on.
Antara feels happy. Arjun says to Parul that he can't marry anyone and will stay alone. Ram says you can't stay alone and Antara is correct,you both are blessed with God blessings and Pinky can't get a better husband than you and I'm sorry for my mistake. Parul says you're correct uncle and she places Pinky hand in Arjun saying he belongs to pinky. Nalini apologizes to Arjun. Arjun says you're like my mom and you can ask anything from me.
Antara asks let's start the Pheras. Arjun says before Pheras, Pinky must do stand up comedy for us. Pinky agrees and makes everyone laugh with her comedy acts. Arjun gets married to Pinky again with all rituals and gets everyone's blessings. Pandit praises their Josi. Arjun lifts Pinky saying you might be incomplete for the world but for you're complete and you make me gets complete and our love story will go on for 7lifes.
Click to read: