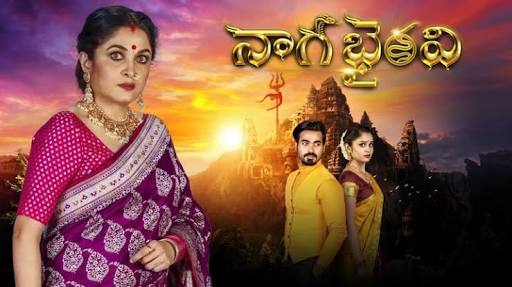 Naga Bhairavi 11th June 2021 Written Update on TellyExpress.com
Episode starts with Bhairavi questions Nagamma how can she kill her husband after blessing them to live happy married life. Nagamma questions if she wants her to kill her love for blessing them? If she want her to leave her Soubagyam for blessing her? It's my duty to protect you for my blessings but it's needed to punish the culprit who did mistake so leave from my way. Bhairavi says Arjun didn't stoled that SanjivaniMani for his use, he just took that Mani from temple to save his mother's life. Shakuntala gets shocked knowing Arjun got that Mani to save her life.
Bhairavi says Arjun just fulfilled his duty as son questions how it's his mistake? Nagamma says it's my duty to save my love so even I'm doing correct. Bhairavi says leave about who's correct but tell me is it justice to punish me? I respect your blessings and I won't forget your blessings so I'm ready to die before Arjun as Sumangali so you have to kill me first to touch Arjun. Everyone gets shocked. Arjun tries to stop her. Nagamma says now you can stop me but don't forget that Arjun will die on 3rd day after his marriage because of his dosham. Bhairavi tells to Nagamma that she will protect her husband and asks Nagamma to never forget that she is ready to die for her husband and she leaves with Arjun from that place. Everyone leaves with them.
Nagini burns whole the mandap in her anger than she goes to Lord Shiva and questions him why he make her helpless? We are protecting your temple from years but you couldn't saved my Bava plus now you make get strucked by making me do Bhairavi marriage with Arjun and now I can't kill him because of my blessings to Bhairavi so I can't save my Phanidra so I can't live without him so I will burn myself Infront of you and she creates fire with her power about to burn herself but Nagaguruvu stops her and questions why she is committing suicide. Nagini tells him how she is feeling helpless. Nagaguruvu says it's not good if you won't think about your parents and finally you found who's the person stoled the Mani so kill him to save your Phanidra. Nagini tells him she is strucked with her blessings. Nagaguruvu says it's dharma only if we forget our blessings to save us and he takes Nagini with him to explain her.
Shakuntala questions Arjun why he went to that temple by risking his life. Arjun tells her he is nothing without her. Shakuntala says parents do anything for kids than how you thought we can bear it if something happens to you. Aditya says you did wrong by entering the temple Arjun, even after knowing it's prohibited. Arjun says he went to save his Mom. Aditya says our goddess is angry with you than who can save you from her. Kaushalya says Nagamma won't take her oath back. Sanvi says they are scared thinking what Nagamma will do with him. Veerabhadram thinks Nagini will definitely kill Arjun. Aditya says they are scared about their life's. Bhairavi says don't worry about Nagamma, now Arjun is my husband and noone can separate this bond and I can do anything to save my husband so I'm ready to face our family goddess so don't worry about us because I married him knowing the risk.
Episode ends.