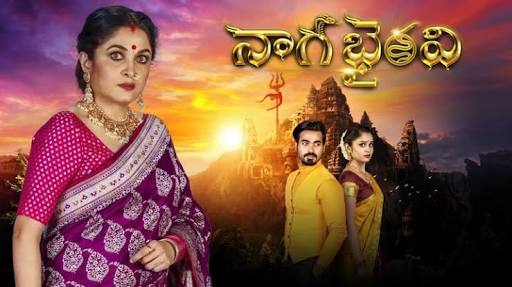 Naga Bhairavi 12th July 2021 Written Update on TellyExpress.com
Episode starts with Bhairavi tells to Shakuntala that she have a blessing of Manasa Devi to save Arjun and she asks everyone to forget everything and assures them that she will take care of Arjun and she asks Arjun to come with her so he can get freshen up. Arjun asks her Mom to don't cry and leaves with Bhairavi.
Veerabhadram thinks Bhairavi saved Arjun from Nagamma attempt. Jalaja comes behind her husband and questions when will Arjun die because we are waiting for his death to make Bhairavi as our daughter in law but I'm doubting whether our wish will get fulfilled or not. Veerabhadram says Nagamma will definitely kill Arjun for sure. Jalaja says Nagamma can't kill Arjun when Bhairavi is with him because of Manasa devi's blessing. Veerabhadram says it's tough to guard him for 24/7 and one minute is enough for Nagamma to kill him. Jalaja says Nagamma must stay here to know that one minute right. Veerabhadram says that's why Nagamma is staying in our house and waiting for that moment. Jalaja gets shocked and asks him where is Nagamma and how he knows about it. Veerabhadram thinks Jalaja may leak Malli is Nagamma to everyone if she finds it than Nagamma will kill me before Arjun for leaking this matter. Jalaja asks him to answer. Veerabhadram manages her telling he doubted that Nagamma is around them to take her revenge against Arjun. Jalaja feels relaxed than she asks why Malli is seeing at them angrily and their is so much proudness in her and tells to Veerabhadram that she will teach lesson to Malli. Veerabhadram asks her to stay away from Malli but she won't listen.
At night Arjun thinks how Nagamma fooled him in Bhairavi form. Bhairavi notices his state and asks if he is thinking about morning incident. Arjun tells her he never expected that Nagamma could do this so it's tough for him to forget about it. Bhairavi says luck is favourable to us that's why you're safe. Arjun says luck can't be permanent and Nagamma might killed me if something goes wrong. Bhairavi closes his mouth and ask him to think positively for their better future and happiness. Arjun asks her to tell what he have to do to get happiness. Bhairavi says think happily and it will bring more hapiness. Arjun smiles and both lost in eachother eyes.
Bhairavi asks when he is planning to give the unforgettable gift he told her before their Marriage. Arjun asks her to wait for sometime and draws cute girl image seeing her and shows it to Bhairavi. Bhairavi feels happy seeing that girl photo and tells to Arjun that drawing is looking lively and cute than she asks how this photo is related to her gift. Arjun tells her he likes the girl child and tells her that he is gifting this drawing to her because he wants them to have a daughter. Bhairavi happily hugs that drawing and tells him that she wants to have a daughter like her and she feels bad when her tear dropped in that photo. Arjun tells him drawing is still good. Both feels happy seeing the photo.
Malli thinks to kill Arjun and she notices Bhairavi coming out from Arjun's room than she changes to snake form and about to enter Arjun room. Veerabhadram notices Malli and feels happy thinking Malli will kill Arjun. Nagamma changes to Malli form seeing Bujji and sees him angrily. Bujji asks why she is seeing him angrily. Malli tells him she is seeing him normally. Bujji says her eyes reminds her snake eyes. Malli asks him to sleep. Bujji says he is not getting sleep and asks Malli to play with him. Malli looks on.
Episode ends.