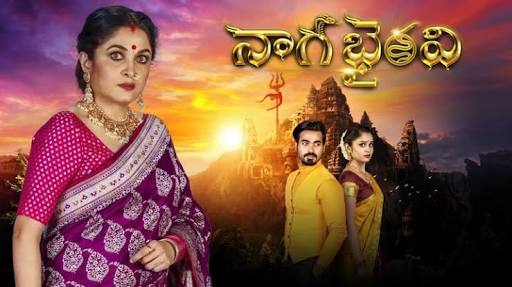 Naga Bhairavi 12th June 2021 Written Update on TellyExpress.com
Episode starts with Bhairavi says I know how to save my husband so don't worry about it and I married Arjun knowing his danger in horoscope and I'm prepared to fight for my husband and I won't get scared about my death than why will I get scared about Nagamma revenge? And she asks Arjun to come with her. Aditya asks where they are going. Bhairavi tells him she going to find answer from Nagamma which thing she is going to fulfill, her blessings or revenge.
Nagini tells to Phanidra that she never thought that her blessings will halt her to save him. Bhairavi reaches to Anthill with Arjun and she asks Nagamma to kill her husband according to her oath and she asks her to fulfill her blessings too by killing her before Arjun. Nagamma tells them that she won't harm anyone at her temple but don't think I will leave your husband because it won't happen and I will definitely kill your husband. Arjun asks how it's his mistake when he did it to save his mother. Shivayya smiles. Nagini says you have to face the consequences for doing the mistake so I know what I have to do so leave from here. Bhairavi begs Nagamma to hear her pleas but Nagamma asks them to leave saying she won't leave Arjun.
Bhairavi notices Shivudu than they goes to him. Bhairavi says Nagamma is telling me that she will make me widow, is it my mistake to worship Nagamma? Why she wants to punish me. Shivudu says noone can change the fate but you can face it with courage. Arjun asks how can they fight with god. Shivudu says I'm suggesting you to find the way and you have a power to save your husband Bhairavi and your Mangalsutra can protect him so try to make your bond strong. Bhairavi asks what they have to do? Shivudu says your bond will grow more after your first night and he goes to Anthill and gets Soil of Anthill with his power and he gives it to Bhairavi telling Nagamma told that she won't harm anyone in her temple so this soil will protect your husband and he makes Arjun wear it and he asks Bhairavi to make sure Arjun will always wear it. Bhairavi and Arjun takes his blessings. Shivudu asks them to finish their next Ritual in tonight itself. Bhairavi and Arjun agrees and leaves from temple.
Sharath and his son in law decorates bed for Arjun and Bhairavi first night. Aditya asks Kaushalya if everything is ready for first night. Kaushalya tells him everything is ready. Aditya asks Annapurna why she looks tensed and teases her telling if she is remembering her first night. Bujji tries to help Kaushalya but she sends him to sleep saying he is not needed in karyam. Bujji goes to Bhairavi and questions what's Karyam. Bhairavi sends him from her room than he questions Arjun about it. Arjun couldn't answer him and asks why he Need it and pinches his cheek. Bujji leaves than Arjun bumps with Bhairavi and both lost in eachother eyes.
Arjun notices Annapurna is looking worried than they goes to her and questions why she looks worried. Annapurna says you asked us to arrange for first night telling Shivudu asked us to do it but I'm getting scared thinking what might happen because Nagamma is angry. Arjun says don't get scared because I didn't do any mistake. Annapurna says you don't know about our rules, it's Mistake to enter that temple and here you stoled Mani. Bhairavi says Arjun didn't do any mistake intentionally, he did it to save his mother so it's good only. Arjun says Shivudu may not help me if I'm doing wrong. Bhairavi says we are doing this Ritual because of Shivudu words so nothing wrong will happen.
Episode ends.