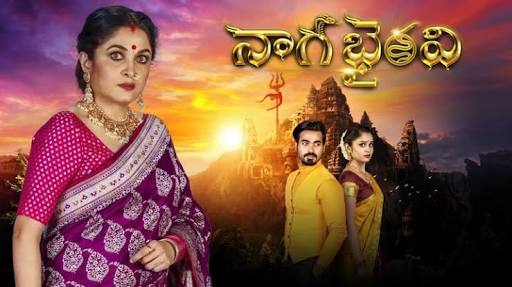 Naga Bhairavi 13th July 2021 Written Update on TellyExpress.com
The episode starts with Malli asks Bujji to sleep. Bujji says he is not getting sleep and asks her to play with him. Malli tells him she have work but he won't listen. Veerabhadram sends Bujji to room and than he asks Malli to finish to her work. Malli changes to her snake form and enters to Arjun room and tries to bite him but she couldn't and changes to human form hearing Bhairavi voice. Bhairavi enters to room and notices Malli and questions what's she doing in room. Arjun too questions when she entered the room and why she is silent even after entering the room. Bhairavi questions what work she have in their room. Malli says she came to apologize them for her morning behaviour and asks them to forgive her.
Arjun says you're our well wisher so don't apologize to us. Bhairavi says we didn't said anything to you than why you're feeling that you did mistake and why you're staying near Arjun whenever he is facing risk from Nagamma. Arjun says sometimes it can happen accidentally so leave it Bhairavi and he asks Malli how's Nagulu. Malli thinks you have to die than only I can save my Bava. Arjun tells her he wishes to meet Nagulu once and asks her to bring him with her. Malli leaves from room saying Nagulu is out of town and she don't know when he will return. Veerabhadram feels dissapointed knowing Arjun is safe. Arjun asks Bhairavi what's she Thinking. Bhairavi tells him their is something wrong in Malli's behaviour.
Kaushalya notices Aditya state and asks him why he looks worried. Aditya tells her he is worried for Bhairavi's future, Arjun and Bhairavi loves eachother so much and Bhairavi can't live if something happens to Arjun and I can't survive if something happens Bhairavi. Kaushalya consoles him by telling Bhairavi's horoscope is good that's why she is gaining god's support and she will definitely save Arjun so don't worry. Aditya agrees.
Girl from Arjun's sketch comesout and wakes up Bhairavi from sleep. Bhairavi questions who's she. That girl tells her she is her daughter. Bhairavi smiles and asks her about her parents and house address. Girl asks her to remember her wish to have a daughter like her. Bhairavi gets tears remembering her wish and she feels happy seeing that girl. Girl says I want to come to you but I'm unable to enter your womb because Dad have so many life threats, please save Dad from those dangers than only I can reach you otherwise I can't come to you and I wish to play with you so please save Dad. Bhairavi tells to that girl that she will save Arjun from dangers and asks girl to stay with her and hugs her happily. Girl dissapears from that place.
Bhairavi searches for that girl in tears and it turns to be Bhairavi's dream, she goes to the drawing and touches it emotionally and promises that she will save Arjun from Nagamma. Malli gets disturbed in sleep because of moon rays and she changes to her snake form and leaves. Bhairavi thinks about her dream seeing Arjun's face. Next day Annapurna asks Aditya if Sanvi and her husband reached to home safely or not. Aditya tells her they reached to home. Arjun attends Sanvi call and tells them that he have to attend office. Aditya and Annapurna tells him they won't allow him to leave and Sanvi will handle office work with her husband and your Dad's support.
Episode ends.