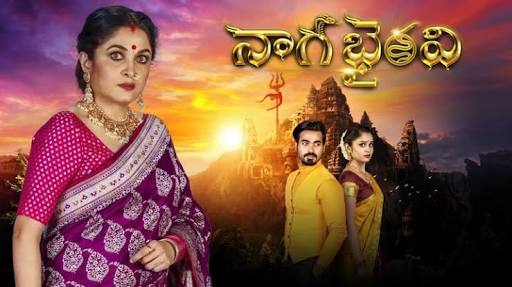 Naga Bhairavi 14th July 2021 Written Update on TellyExpress.com
Episode starts with Arjun on call says that he will return to office as soon as possible and cuts the call. Annapurna asks if it's his sister. Arjun says yeah it's Sanvi's call, she is saying office works are pending and feeling that my presence in office may helped them. Aditya and says your Dad and her husband will help her and we don't allow you to leave from here. Annapurna gives warning to Arjun and asks him to don't leave anywhere saying he is newly married. Bhairavi says she won't bear if anyone gives warning to my husband. Annapurna says don't forget Arjun is my Grandson so I have a right on him and she twist his ears. Bhairavi saves him from Annapurna. Annapurna gets angry. Arjun goes to her and asks her to do what she wants to do to him. Annapurna says her grandson is her party. Aditya joins with Bhairavi's party. Both teases eachother.
Kaushalya performs Pooja to Tulasi plant and she about to enter inside that time skin of snake fell in her Pooja plate, she feels terrified and shouts saying snake. Everyone goes out and Arjun makes Kaushalya cool saying it's Skin of snake not snake. Annapurna says it means Nagamma is near to our house. Aditya too agrees. Annapurna cries for Arjun's safety holding him. Arjun tries to console her telling nothing happens to him. Bhairavi says don't worry about Arjun's safety because their is solution to get out from this problem. Arjun asks what's it. Bhairavi says she will tell them later and she takes Aditya with her saying she have to talk with her brother. Arjun goes behind them.
Bhairavi tells to her brother that last night she read the secrets of temple written by him and discusses with him about the way she finds in that book. Arjun notices they are discussing about something and leaves from that place. Aditya asks Bhairavi to tell this matter to Arjun. Bhairavi says not now because while family will find it through Arjun and Nagamma can't harm Arjun if he stays with me so keep this matter as secret between us. Aditya says Nagamma may find it and what if she creates new problem. Bhairavi says she have a way to stop Nagamma and tells to him about it. Aditya agrees.
Malli in tears puts lilies on Phanidra body. Nagaguruvu says these are Pournami days and you have to kill Arjun before Pournami otherwise you can't save your Phanidra so don't lose this opportunity. Nagini tells him how Arjun is escaping from her everytime. Nagaguruvu says she have to break those hurdles to reach her Destination. Nagini tells to Nagaguruvu that she won't leave Arjun this time. Nagaguruvu dissapears from that place. Nagini tells to Phanidra that she will die without him and she decides to kill Arjun.
Arjun gives tablets to Shakuntala. Aditya calls Kaushalya and she tells him that she arranged flowers. Annapurna asks what's the need of flowers. Aditya tells her he wants to arrange first of Arjun and Bhairavi. Shakuntala and Annapurna asks why they are arranging it even after knowing Nagamma might stop it. Bhairavi says today Nagamma can't stop it. Arjun asks how she is sure and asks Aditya to stop it. Bhairavi says she is the one who asked Aditya to arrange their first night. Jalaja and Veerabhadram gets angry. Arjun asks why. Bhairavi says we need to strengthen our bond like Shivudu suggested that why I want it to happen. Jalaja says your bond may get broken if you do the things without thinking about consequences. Kaushalya asks why she is talking ill words. Jalaja scolds Kaushalya. Bhairavi supports Kaushalya. Jalaja says she don't want any bad happen to them that's why I told in that way but you're misunderstanding my intention. Aditya says they couldn't see good intentions in her words. Annapurna says Jalaja will never change. Jalaja asks why can't they notice Arjun was strucked in dangers whenever inauspicious events occur at home. Everyone looks on.
Episode ends.
Precap – Jalaja says skin of snake is indication of inauspicious event and she asks Bhairavi to stop their first night plans. Bhairavi denies to listen Jalaja words.